International Women's Day 2012:
Palestinian women file complaints against Shin Bet stating humiliation and harassment in interrogation
The Public Committee Against Torture in Israel distributes rights leaflet for Palestinian women on detention or interrogation
situations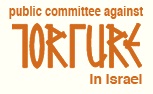 The Public Committee Against Torture (PCATI) submitted yesterday two group complaints to the Israeli authorities on behalf of nine Palestinian women detainees and former prisoners. These complaints address gender-specific types of ill treatment and torture which detainees reported to PCATI's legal team in the course of meetings with 29 women detainees and prisoners in 2011.
The group complaints deal with two different issues
- Soldier violence at arrest and torture and ill-treatment during ISA (Shin Bet) interrogations, specifically aimed at women and taking advantage of gender, religion and cultural sensitivities.
The first complaint exposes Torture and ill-treatment during ISA (Shin Bet) interrogations, most of them lasting several weeks. The 9 women listed in the complaint testified that during interrogation they suffered inhuman detention conditions used as a method of interrogation; absence of basic hygienic conditions, including denial of sanitary pads to women who were menstruating during interrogation; prolonged interrogation sessions, lasting in some cases up to 20 hours; threats, including threats against family members; verbal abuse including of a sexual nature; sexual harassment, and other forms of humiliating and degrading treatment.
The complaint regarding
Soldier violence at arrest
contains testimonies of Palestinian women which suffered painful shackling; physical violence during arrest; strip searches conducted under inappropriate (and immodest) conditions; threats and intimidation; verbal abuse, humiliating and degrading treatment, including denial of menstrual pads and disregard for or exploitation of cultural and religious sensitivities as a form of humiliation.
Following these complaints and in honor of International Women's Day, held on Thursday March 8, PCATI began distributing today a new "Know Your Rights" leaflet, aimed at Palestinian women in the Occupied Territory and listing their legal rights in the event of arrest or interrogation. The rights leaflet contains information relevant for security detainees and prisoners in Israeli prisons and detention centers, as well as their family members. The leaflet is published in Arabic, Hebrew and English, and will be distributed through the local media in East Jerusalem and the West Bank, including tens of thousands of copies attached to the Thursday issue of the popular daily "Al-Quds", and copies which will be distributed directly to Palestinian communities in the West Bank and East Jerusalem.

This initiative comes in the face of the state's disregard of its obligation to inform detainees of their legal rights while in detention and interrogation. The leaflet was compiled and written by Atty. Maisa Abo Saleh of the Public Committee Against Torture in Israel and is divided into three chapters - Arrest and Interrogation; Arrest Following Indictment; and Rights in Prison. The rights leaflet details legal rights in various areas such as the duration of detention without indictment, contact with family during the arrest, incommunicado detention, medical examinations and treatment, body searches, prison conditions, education, and contact with the outside world.

Dr. Ishai Menuchin, Executive Director of the Public Committee Against Torture in Israel, elaborated on the need for a Rights Leaflet for women security detainees, stating that "This is a population whose basic rights are easily trampled by the security forces. Our aim is to ensure that Palestinian women living under the Israeli occupation will know their rights and have the power to demand these rights be respected."