WCLAC concludes three days training for Birzeit University students entitled: Women's rights, Human rights-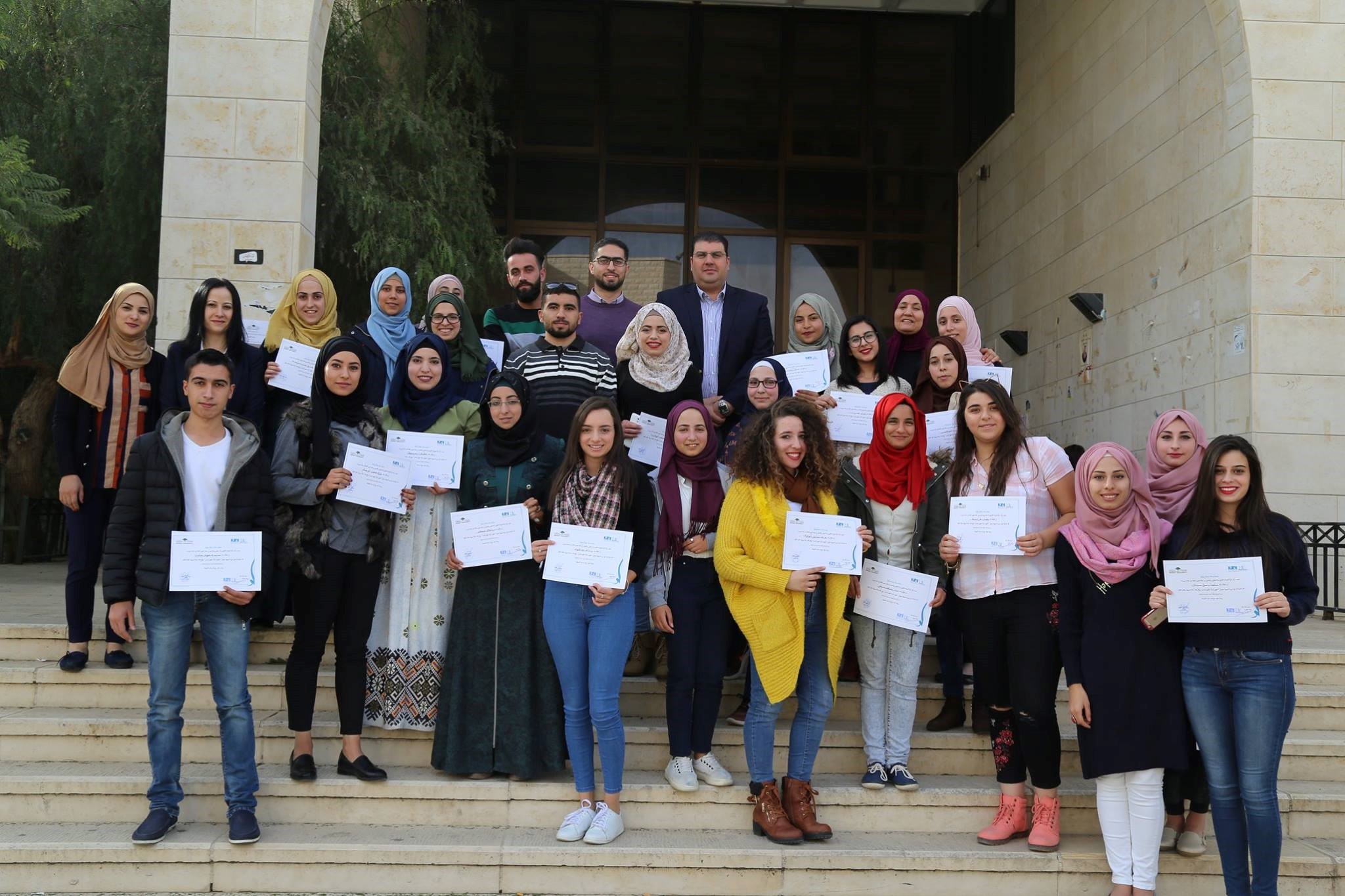 Between the 11th and 13th November, WCLAC facilitated training workshops over three days for students of Birzeit University in partnership with the Deanship of Students Affairs. The participation reached 30 students whom will go on to apply skills from the training to furthering women's rights activism. The workshops raised awareness among students in Birzeit University about women's rights, specifically within the framework of Palestinian legislation and international human rights instruments. WCLAC lawyer, Rawan Obaid, delivered training to the students on women's rights and gender issues in Palestine. The students were also briefed on the challenges that human rights organizations and women's organizations face in their work defending the rights of Palestinian women. This was with respect to legislation and practice, particularly regarding the Personal Status Law and Penal Code and some draft laws such as the Social Security and Family protection laws. The training also dealt with the perceptions of gender and gender-based violence in Palestinian law, and the embedded discrimination against Palestinian women in this system. Judging by the positive indicators which these workshops achieved over previous years, reflected in the evaluations and observations on trainings and the recommendation to continue this type of program, these workshops have been placed within WCLAC's top priorities.
---
WCLAC participates in a dialogue session held by the British Consulate General/ Jerusalem and the UN Women on Palestinian women's rights-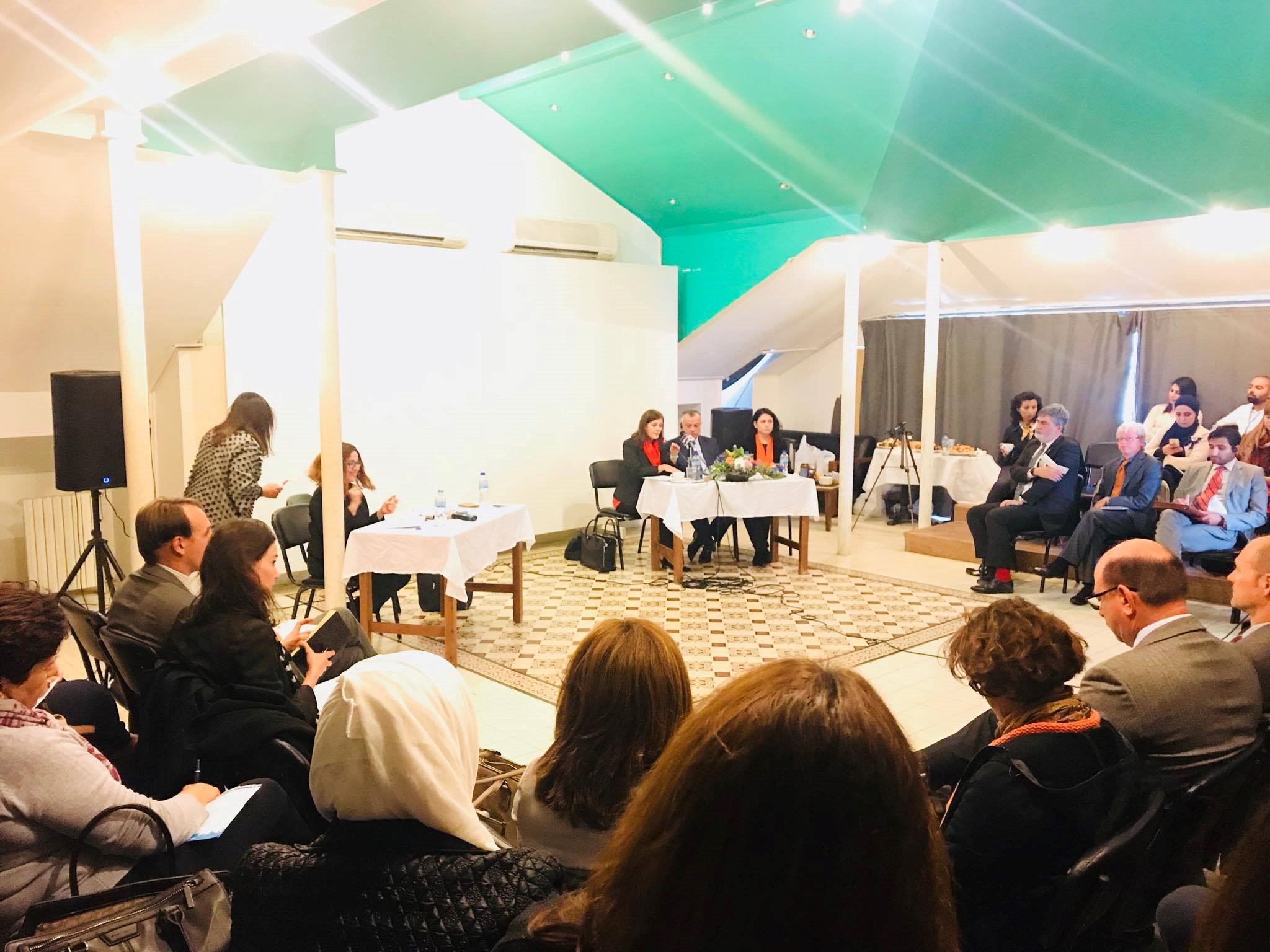 On 28 November WCLAC participated in a dialogue session at Khalil al-Sakakini Centre hosted by the Palestinian Ministry of Women's Affairs in cooperation and partnership with the British Consulate General in Jerusalem, and UN Women. Ms. Joanna Roper, the special British envoy for gender equality and women empowerment issues, attended the session during her visit to Palestine as part of the national campaign to combat violence against women. The session opened dialogue between specialists in the area of women rights, rule of law, and human rights. It included all actors within the family protection law, at both national and international levels, to expose challenges and obstacles that hinder equality, protection and women empowerment achievements, and identify the progress made. Ms. Roper talked about her role as Special Envoy and the importance of her post in empowering and providing safety and security for girls and women around the world, while promoting equal rights. WCLAC's advocacy team leader, Amani Aruri, shed light on the challenges Palestinian women face in their daily lives. She stressed the effects of Israeli occupation on restricting Palestinian female participation in all sectors, especially economic participation affected by restrictions on movement, and the cultural and social context that imposes negative stereotypes of women's roles. Additionally, discrimination against women in the workplace discourages women from participating in the labor market. Dr. Noor Abraham, the Argentinian expert in gender equality who is visiting WCLAC for one month, shared the Argentinian experience regarding women's movement. She emphasized that women all over the world have suffered from different kinds of violence, whether physical, emotional, sexual or otherwise. Regarding the status of Palestinian women, she said that the suffering of Palestinian women as a result of the violence they experience is compound, as the violence is exponential alongside facets of Israeli occupation, domestic violence in families and communities, and national laws that discriminate against women.
---
WCLAC hosts a workshop on Networking by Using National Referral System Approach-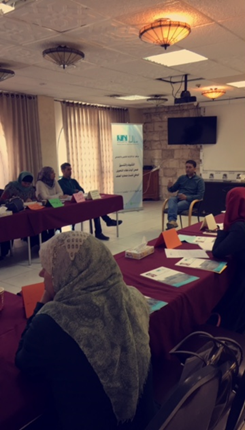 During November, training was held for four days for service providers in three governorates, Jericho, Tubas and Tulkarem, where 22 service providers for women victims of violence participated in the training. The training focused mainly on networking and coordination mechanisms within the national referral system for victims of violence to develop their capabilities and to build a team of service providers in the protection networks of women victims of violence. It also focused on expanding the knowledge and awareness of participants in the national referral system, procedures for the follow-up, monitoring and documenting the cases of violence against women, as well as enhancing their awareness in violence's types and various intervention tools while providing protection services for women and children. Additionally, the necessary preventive interventions for social problems, and their psychological effects on the female victims were discussed.
---
WCLAC hosts a workshop on the EU's advocacy strategy on the Palestinian-Israeli conflict-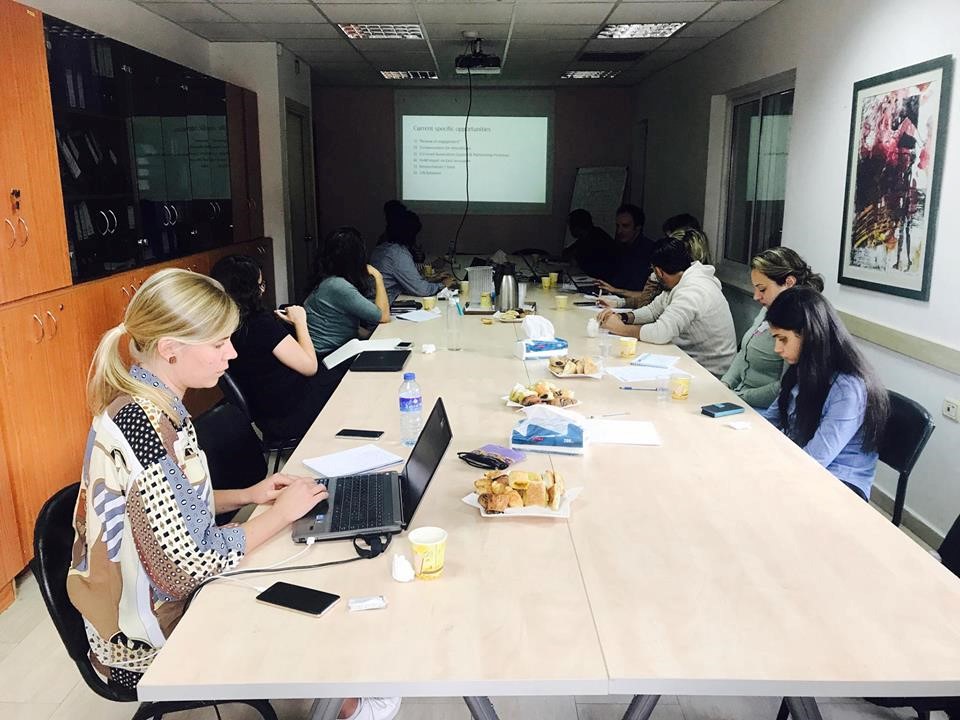 In a partnership with WCLAC, the Belgian agency Broederlijk Delen hosted a workshop about the EU's advocacy strategy with regards to the Palestinian-Israeli conflict. The workshop discussed issues including: EU political dynamics with regards to the Palestinian-Israeli conflict; the main challenges Palestinian NGOs face when dealing with EU-funded projects; the Differentiation Policy that the EU is following, regarding Israeli settlements. The participants discussed the challenges NGOs face in lobbying with EU states and international organizations alongside coordinating campaigns, approaching the EU and the effective communication pathways available, strategies to push the EU to act on Israeli violations in the Palestinian territories, how to sway key players, and the effectiveness of differentiation policy. The policy of differentiation is based on forming constraints and complications, rather than imposing significant barriers or cost to Israel. It attempts to counter normalization of the occupation, and encourages businesses and consumers to internalize the green line through products, attempting to undercut continued annexation through illegal settlements. The EU still continues to import 15 times more Israeli settlement products than Palestinian products. Between the periods 2009 -2014, some progress in EU policy regarding advocacy in favour of the Palestinian cause was witnessed. However, since 2014, there has been a stagnation in that policy. The participating organisations were provided with a list of EU Institutions that can be approached to lobby in favour of Palestine.
---
WCLAC and activists from Women's Organizations meet with the Palestinian Ambassador for Switzerland-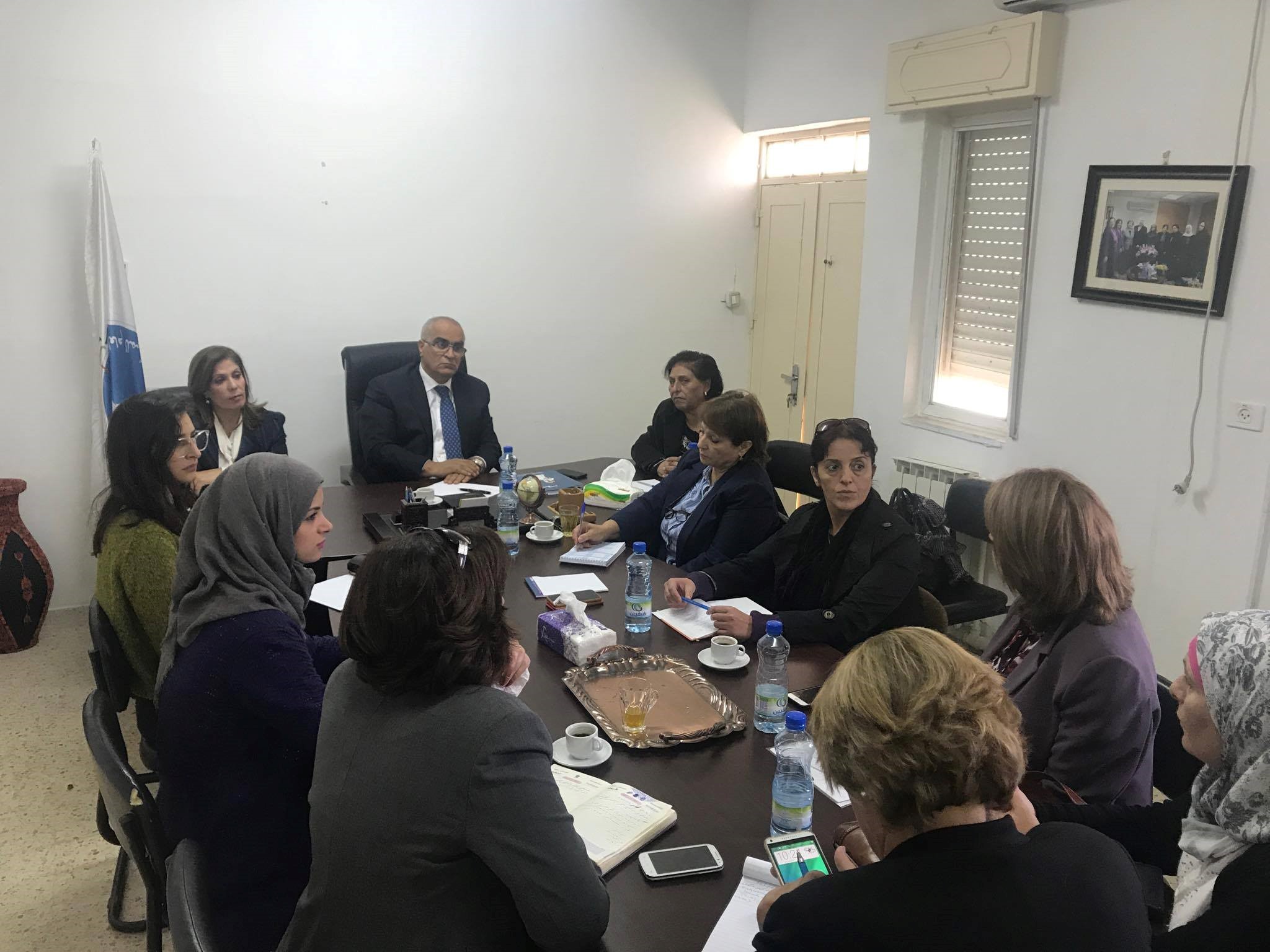 On 11 November, WCLAC and other women's organizations met with the Palestinian ambassador for Switzerland and the UN, Ibrahim Khreisheh, to discuss the NGOs' submission to the CEDAW 68th session. This meeting came as a preparation for the CEDAW pre-session of Palestine, to review its initial report which will take place in Geneva between the 20th and the 24th of November. Moreover, WCLAC prepared a submission to the CEDAW Committee focussing on GBV and article 16 of the CEDAW Convention to highlight gaps and inequalities in current Palestinian legislation and practices. Mr. Khreisheh stressed the importance of international advocacy work by Palestinian organisations, especially with their UN submissions. He emphasized the need for a shared action plan by Palestinian organisations should be developed, defining the work required nationally and internationally to follow up on the implementation of conventions and treaties, especially CEDAW by both the PA and Israel. Additionally, he mentioned that the Palestinian cause is already internationalized, and that more awareness raising campaigns should be held about CEDAW, the 1325 resolution, the economic, social, and political treaties related to women, reporting techniques, UPR and shadow reports, and other topics related to women's rights. WCLAC briefed the ambassador on its shadow report submitted to the pre-sessional session of the CEDAW Committee on Palestine in October this year, and the interventions it had in Geneva. It was highlighted that WCLAC had an active role in the CEDAW committee side-event. Mr. Khreisheh praised these efforts and thanked all organizations for their active role in improving conditions for Palestinian women.
---
WCLAC participates in Oxfam's Advocacy Strategy consultation workshop-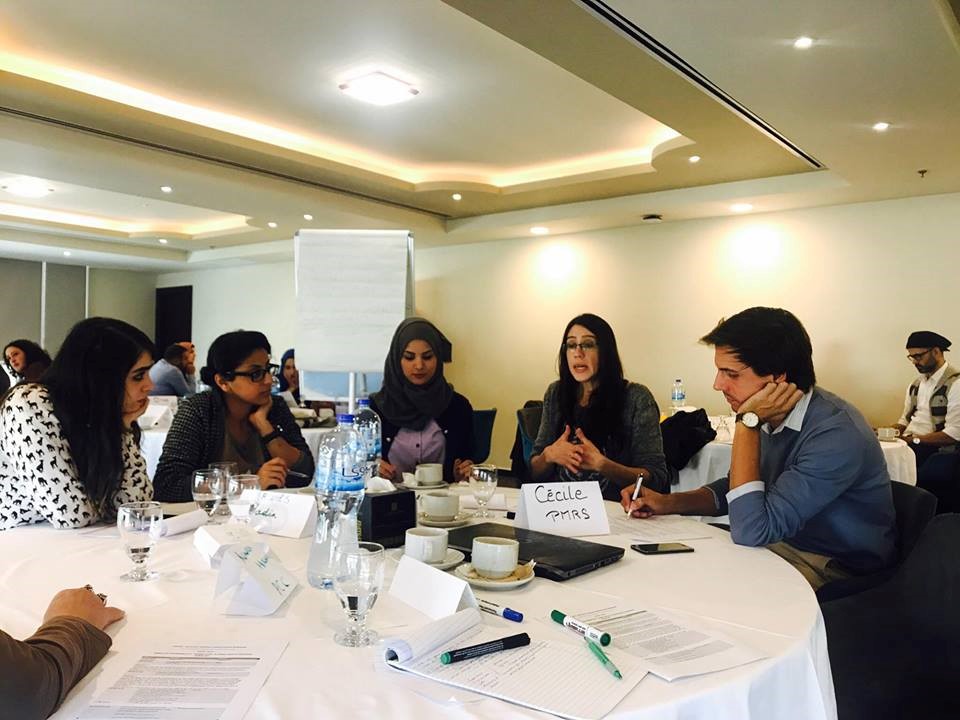 On 8 November a consultation workshop by Oxfam was held for the purpose of improving Palestinian CSO's understanding of Oxfam's strategic vision in the OPTs, and to discuss Oxfam's primary areas of intervention in the region. One of the key discussions was around analysing the strengths and weaknesses of organizational projects with Oxfam according to the themes of social justice, gender justice, public spaces and saving lives. WCLAC was part of the table discussion on gender justice. Some of the issues noted as key barriers to gender justice in Palestine were rape law, divorce law, sexual and reproductive health, the monitoring and regulation of shelters, and cultural attitudes. Among other things, it was highlighted that women have not given birth at checkpoints in nearly ten years as Israel realized it was damaging their international image. Thus, it is important for gender justice CSOs and NGOs to focus on other issues such as sexual harassment at checkpoints and in detention, as well as strategic sexual harassment which occurs to both men and women. It was universally agreed upon that Oxfam needs to have a more consultative role with Palestinian CSOs and to support local CSOs in establishing links between national and international levels. It is important for Oxfam to utilize their 'neutrality' to advocate for Palestine on international platforms and place pressure on both Palestine and Israel. It was agreed that there needs to be greater unity in messaging and the stances of the local and international NGO and CSO community. As one woman stated, "if we cannot agree even on a simple press release, then what do we do at the international level?" It was suggested by a participant that perhaps there needs to be greater regulation and institutionalization of advocacy and lobbying in Palestine.
---
UN Committee: Palestinian women face systematic discrimination in Israel-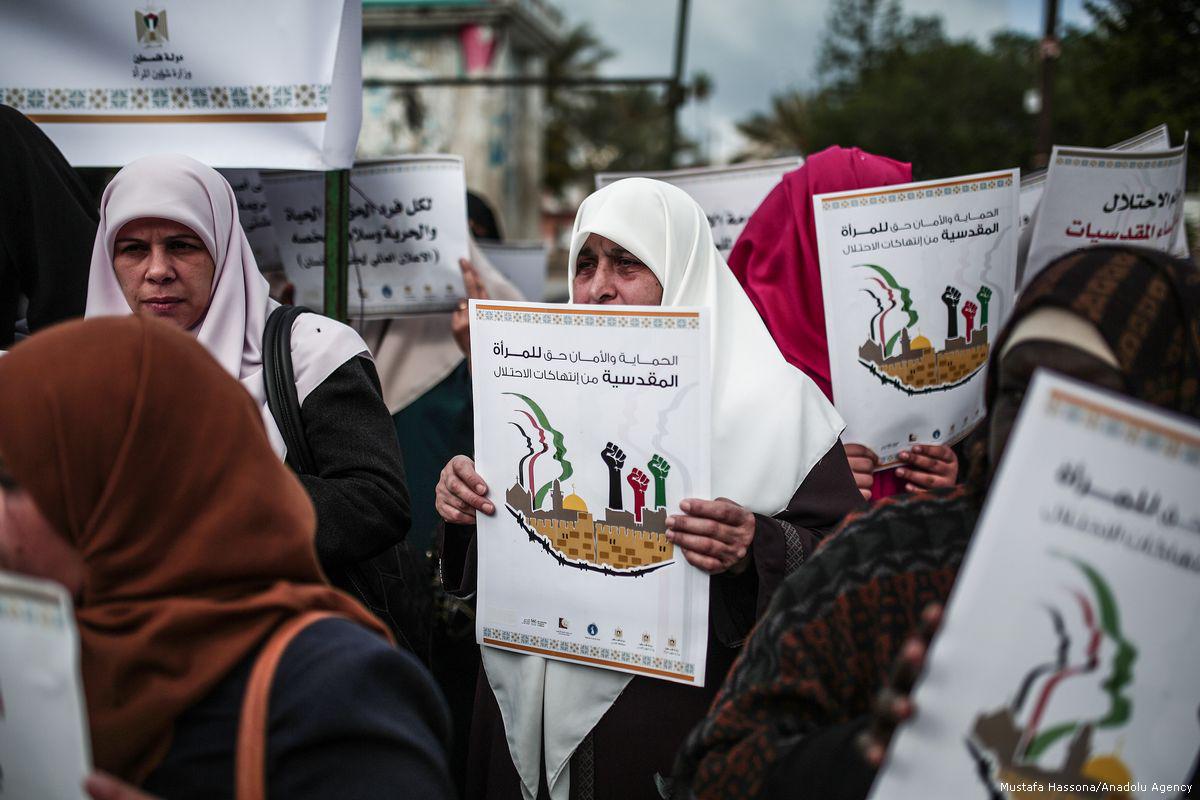 The United Nations Committee on the Elimination of Discrimination against Women (CEDAW), of which WCLAC contributed a submission, has highlighted "systemic discrimination" faced by Palestinian women, as part of the concluding observations of its review of Israel released on 21 November. Of the key concerns within the report were discrimination by Israel against Arab and Bedouin communities, the Citizenship and Entry into Israel Law, the restrictions on human rights defenders, and the need to increase women's participation in the labour market. Read more.
---
Palestinian artist urges women to talk about sexual harassment-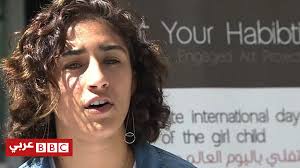 Palestinian artist Yasmeen Mjalli has launched a project entitled Not Your Habibti, which last month initiated its first phase through collecting personal accounts of sexual harassment from Palestinian women. The second stage of this initiative to raise awareness of harassment within the West Bank and elsewhere will be to publish the compilation of women's stories in a book, published in both English and Arabic. Mjalli will also be speaking with students at Al-Quds University in Abu Dis on 29 November on the issue. Majlli noted "Women are subject to many harassment incidents, which are left unspoken, as these women fear their parents and the community. This is because such incidents are associated with 'honor'. I am convinced that the best way to change the reality is boosting self-confidence among women, speaking up about these incidents and having these women learn that they are not the only ones subjected to sexual harassment." Read more.
---
UNRWA celebrates the Graduation of 1246 Palestine Refugees from the Gaza Training Centre-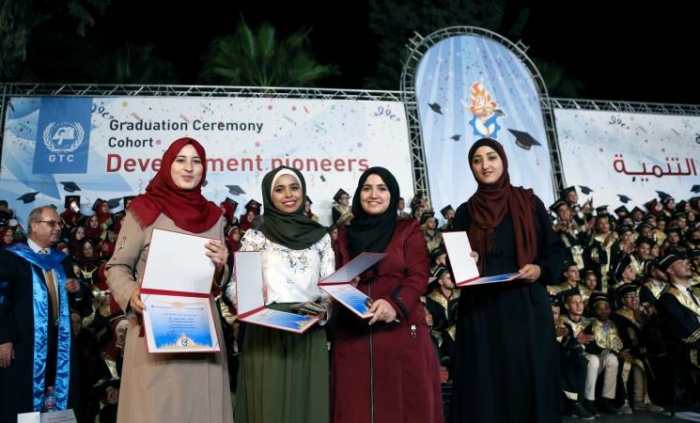 On 4 November, a ceremony took place to honor the graduation of students from the Gaza Training Centre where graduates received their diplomas and some of the best work produced was showcased. Amongst the innovators who have completed the UNRWA sponsored programme were telecommunications graduates, Lama Khattab, Amal Arayshi, Falesteen Basyouni, Samah Al-Qishawi and Dina Al Halabi, whom produced a voice-controlled robot integrated within a traditional wheelchair. The goal of their project is to enhance self-mobility by enabling people with motor disabilities to control their wheelchair using a voice-recognition system. The project took first place in 2016 competition, held on the occasion of the International Day of Women and Girls in Science. Read more.
---
The Radical Women at the Heart of Palestine's First Intifada-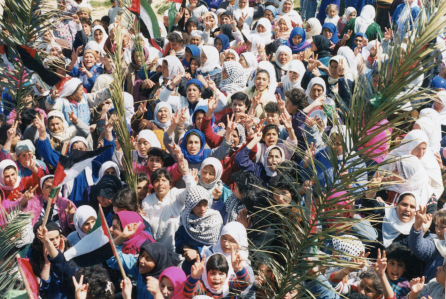 This month saw the release of Naila and the Uprising, a documentary comprised of archival footage detailing the civil uprising seen during the first intifada, and the prominence of women's roles in it. The film is just as much about gender equality as it is about Palestinian liberation. "Women, when they get involved in protest movements, research shows that the movements are more likely to succeed and lead to democratic societies," explains Bacha. "When movements have as part of their ideology a call for gender equality, they tend to be more likely to adopt nonviolent strategies, and tend to be successful at leading to stable, democratic, pluralistic societies. They are longer lasting." Read more.
---
Gaza women voice solidarity with Jerusalem counterparts-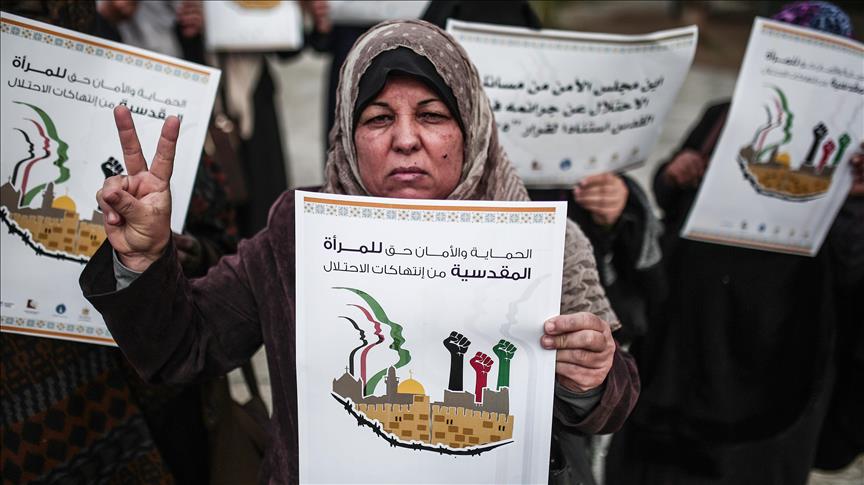 Protests by women in Gaza City were staged to mark the International Day for the Elimination of Violence against Women on 23 November. Mina Sekik, public relations director at the Palestinian Ministry for Women's Affairs, declared at the event: "We condemn the [Israeli] violations to which Jerusalem's women are regularly subject." She added that Jerusalem's women suffered greatly as a result of what she described as Israel's "policy of institutionalized violence". The day was celebrated universally after the UN marked its recognition as 25 November. WCLAC continues to record and contribute to reports on violence against women in Palestine. Read more.
---
Women rule the stage at DC's Palestinian art and film festival-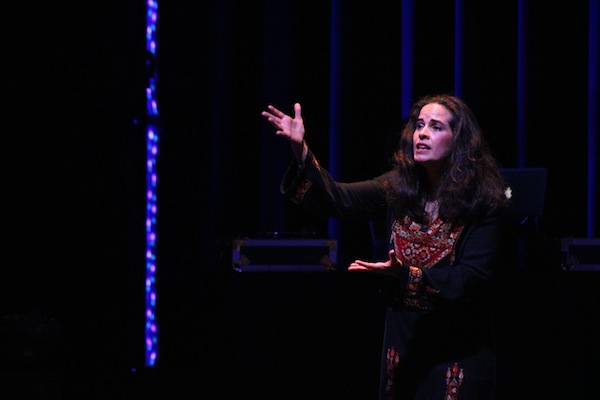 Entering its seventh year, the Palestinian art and film festival, held in Washington DC, has heralded the role of women in storytelling and film-making. The festival was founded by three female Palestinian-Americans, one of them being Noura Erakat who commented on the new wave of art that young Palestinians are creating. Women played a prominent role in the event and the festival continues to demonstrate the importance of women's narration to the formation of a cultural identity for the Palestinian diaspora. After all, it is the memories of women that thread each iteration of the Palestinian experience into a whole. Read more.
---
Mosaic making gives deaf Palestinian women a voice-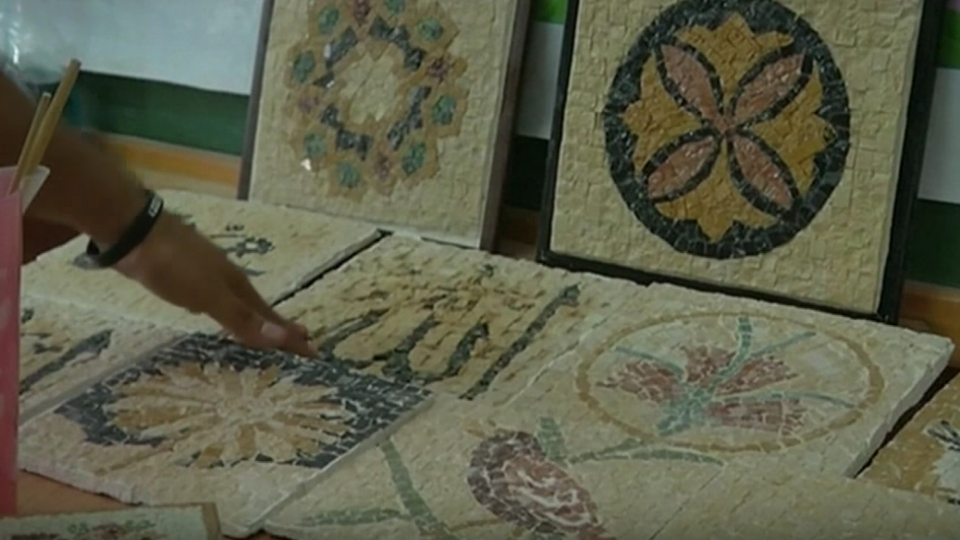 An arts and crafts centre in Hebron city has begun workshops for deaf women to create mosaic art, in order to help them earn a living and better integrate into society. "We used to rely on our families for a living, but after we joined this vocational school, we now earn our living and have our own income" expressed one participant, Dunia Jaradat. After the success of these workshops, the centre plans to expand to other cities in order to reach more people with disabilities. Watch the video here.