Swedish journalist Stefan Ekland conducted a short visit to WCLAC offices in Ramallah where he interviewed WCLAC staff on the challenges facing Palestinian women. Below is the translated article taken from the original Swedish article found here.
The double oppression of women in Palestine
Ramallah, 23 November
Palestinian women are suffering from a double oppression. In the third part of the series 'Palestinska bilder' (Palestinian images), Stefan Eklund meets Amal Abusrour and Amani Aruri who work for a Palestinian women's organisation.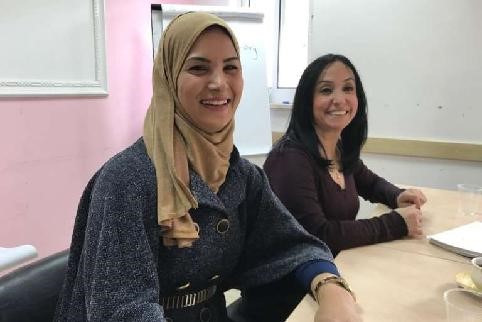 Amani Aruri and Amal Abusrour work for the Palestinian organisation Women's Center for Legal Aid and Counselling. Photo: Stefan Eklund
Palestinian society has strong patriarchal structures. A study shows that approximately 1:3 of every Palestinian woman has been subject to violence, and even though 60% of university students are women, only 19% of Palestinian women are employed.
In Ramallah I meet Amal Abusrour and Amani Aruri who work for the organisation Women's Center for Legal Aid and Counselling. According to them, the reason for patriarchal rule in Palestine is often due to religious laws.
''Here, the Qur'an is interpreted patriarchally'', says Amani Aruri. ''But it's wrong.
The Qur'an sees us all as equal''.
The organisation fights, amongst other things, for equal salaries, a higher marital age of 18(currently it is 14), and for preventing the stigmatisation of women who have been released from Israeli prisons.
''Men who are sentenced for a political crime are heroes when they return home; women become segregated'', says Amal Abusrour. There are exceptions, but in those cases the women belong to families that are politically or financially influential.
Women's Center for Legal Aid and Counselling also has safe houses for women who have been abused and live fearing for their lives. They represent and advocate for women in divorce cases taking place in either Muslim or Christian religious courts, depending on which religion the couple belongs to. With the support of the law, the man has significantly higher chances to get the custody of children in a divorce situation.
Amal Abusrour and Amani Aruri say that they are opposed by conservative mosques, where imams often complain that they have a hidden agenda and want to introduce an unfamiliar culture in the Palestinian society.
The Israeli occupation does not make it easier either. The thousands of Palestinian men who work in Israel and have to wait for hours, humiliated, at the border passages, often direct their frustration towards women when they get home.
''Therefore we must also direct our efforts towards men and make them aware of the existing patterns and consequences'', says Amal Abusrour.
Women's Center for Legal Aid and Counselling was established in 1991 and now has offices in many places in Palestine. It is, of course, also staunchly against the Israeli occupation. ''Women in Palestine suffer from a double oppression - by an occupational power and by a patriarchal Palestinian society'', Amal Abusrour states.
TRANSLATED FROM SWEDISH BY NEA SAARREHARJU