Women's Voices: Suheir R. - Property destruction
| | |
| --- | --- |
| Name: | Suhier R. |
| Age: | 44 |
| Location: | Ath Thuri, East Jerusalem |
| Nature of incident: | Property destruction |
| Date of incident: | 19 September 2016 |
On 19 September 2016, 44-year-old mother from Silwan is forced to demolish the shop she owns after Israeli authorities served her with a demolition order for lack of building permit.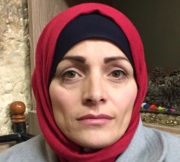 Suheir is a 44-year-old mother from Ath Thuri in Jerusalem. Suheir supports her family by running a shop which she owns.
"In April 2015, I received financial aid from an NGO, Agricultural relief, from which I was able to build a small shop, (12*250) square meters, and was able to fill it up with food supplies. I was proud of my accomplishment, as I am running the house since my husband is sick. Although it was not easy to deal with suppliers but I felt happy to be financially independent and able to support my family."
"One day in July 2016, at around 10:00a.m., I saw through surveillance camera, which I can see the front of the shop from, two employees from the municipality of Jerusalem, wearing white shirts and blue pants, along with three armed Israeli police, standing in front of the shop. I was too scared to go and check what they wanted; I stayed home watching the surveillance camera; the municipality employees took pictures of the shop, then posted a paper on the shop's door and left after 15 minutes."
"When I picked the paper it was an administrative demolition order for building without a permit. The order did not include specific date of demolition, but it said we needed to follow up with the municipality. The order was written in Hebrew and Arabic."
"Since that moment every time I went to the shop I felt afraid and unsafe, expecting the municipality employees and the police to come any minute."
"On 16 August 2016, at around 10:00a.m., the municipality employees posted another administrative demolition order on the shop. Again the order did not include specific date for the demolition, but it said we needed to follow up with the municipality, and it was written in Hebrew and in Arabic."
"After discussing the issue with my husband we thought that our best choice was to demolish the shop ourselves. We knew there was no point in applying for a building permit as it was almost certain it would be denied. That was the same reason why we didn't apply for a permit in the first place.Also if we let the Israeli authorities demolish the shop, we would have to pay the high costs of demolition and we cannot afford it."
"On 16 September 2016 at around 8:00a.m., my husband and our eldest son Bilal (21) started to demolish the shop using manual tools and a Jack hammer. It took them two days to demolish the shop. We had to empty the shop beforehand then I sold them for a reduced price."
"It was hard for me to watch my shop being demolished so I couldn't stay around; on the second day I left the place all day and only came back in the evenings. I felt frustrated and drained especially when I saw the expressions on my husband's and my son's face; mixed feelings of frustrations and extreme exhaustion."
"I hired a lawyer to follow up with the Israeli authorities, just to make sure that there was no charges left against us concerning the shop demolition, I paid the lawyer about 2000NIS to do this job, until he made sure that we had a clean file."
On 23 September 2016, two municipality employees along with four Israeli police showed up. They took pictures of the demolished shop and left.
"Currently my household is facing a real financial crisis; I am working hard to find a job to support my family."
"I will not let what happened bring me down; although I lost my main source of income, I decided not to give up and I will continue trying to find solutions to bring about descent living standard for me and my family."