Women's Voices: R. - Gaza
| | |
| --- | --- |
| Name: | R. |
| Age: | 40 |
| Location: | Gaza |
| Date of incident: | 3 May 2015 |
| Nature of incident: | Life in Gaza |
On 3 May 2015, a Palestinian Canadian woman describes the difficulties in visiting her family in the Gaza Strip.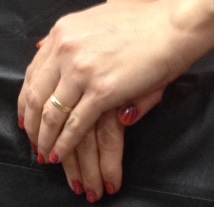 I live with my husband and three children in Canada but we are originally from Gaza. I was last able to visit Gaza in 2000. I haven't been able to see my family in Gaza since then. My husband and I still have a house in Gaza but it has been uninhabited for many years.
On my last visit to Gaza 2000, I came with my son Charlie, who was 1. During our visit to see my family the Israeli air force bombed the port of Gaza. My husband wanted us to return to Canada straight away. Every time we planned a visit to Gaza to visit family a new war starts. Over the years the siege has also made visiting much harder.
On 21 April 2015, I decided to visit Gaza alone this time. I entered from the Allenby Bridge, on the border between Jordan and the West Bank, but controlled by Israel. I spent the first night in Bethlehem because I did not want to cross the Erez crossing between Israel and Gaza late at night.
The next day I was very nervous about crossing at Erez as I didn't know what to expect. The security was very tight and I had to pass through metal detectors and was physically searched. Nevertheless, I enjoyed spending time with my family after being away for 15 years. During my time in Gaza I always felt stressed that a new war might start. I would have liked to have travelled with my husband and children to Gaza but felt it was just too risky.
I never feel safe when I visit Gaza. For example, on 23 April 2015, I went out to dinner with my family and we could hear military jets overhead and the sound of bombs. I froze in fear and we had to leave the restaurant. Also there are continuous power cuts in Gaza which makes a normal life difficult.
I am not sure if I want to visit Gaza again. It is just too stressful and I don't feel safe.