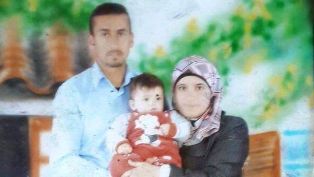 [7 September 2015] – On Saturday, 5 September 2015, Reham Dawabsheh died from the injuries she sustained when her home was firebombed in a suspected settler attack in the West Bank village of Duama on 31 July 2015. Her infant son Ali was killed during the attack and her husband succumbed to his injuries in early August. Four-year-old Ahmed is now the sole survivor of the attack and remains hospitalised with second degree burns to 60 per cent of his body.
On 2 September 2015, WCLAC lodged a
submission
with the UN relating to the impact of settler violence in the West Bank. WCLAC's submission notes that by 2016 the Israeli settler population in East Jerusalem and the West Bank will exceed 600,000 and that accountability for settler attacks is almost non-existent.
The nature of the attack that occurred in Duma in July bears a chilling similarity to two cases documented by WCLAC in March 2015 (
T.N.
and
A.A.
). Although there is no serious dispute as to the illegality of the settlements as confirmed on numerous occasions by the UN Security Council, successive Israeli Governments continue to encourage and facilitate the flow of Israeli citizens into East Jerusalem and the West Bank leading inevitably to increased tension and violence.
Although this process and its legal consequences are well known, there continues to be an absence of any meaningful political will to challenge what effectively amounts to a de facto annexation of the West Bank. This absence of any serious political will is likely to figure in any decision by the prosecutor of the International Criminal Court to initiate an investigation in Israel's policy of settling occupied territory in violation of Article 8 of the Rome Statute and Article 49 of the Fourth Geneva Convention.
In spite of statements of condemnation by various Israeli officials, no one has yet been charged with the Dawabsheh family murders.
Links