Nadine S. Bahour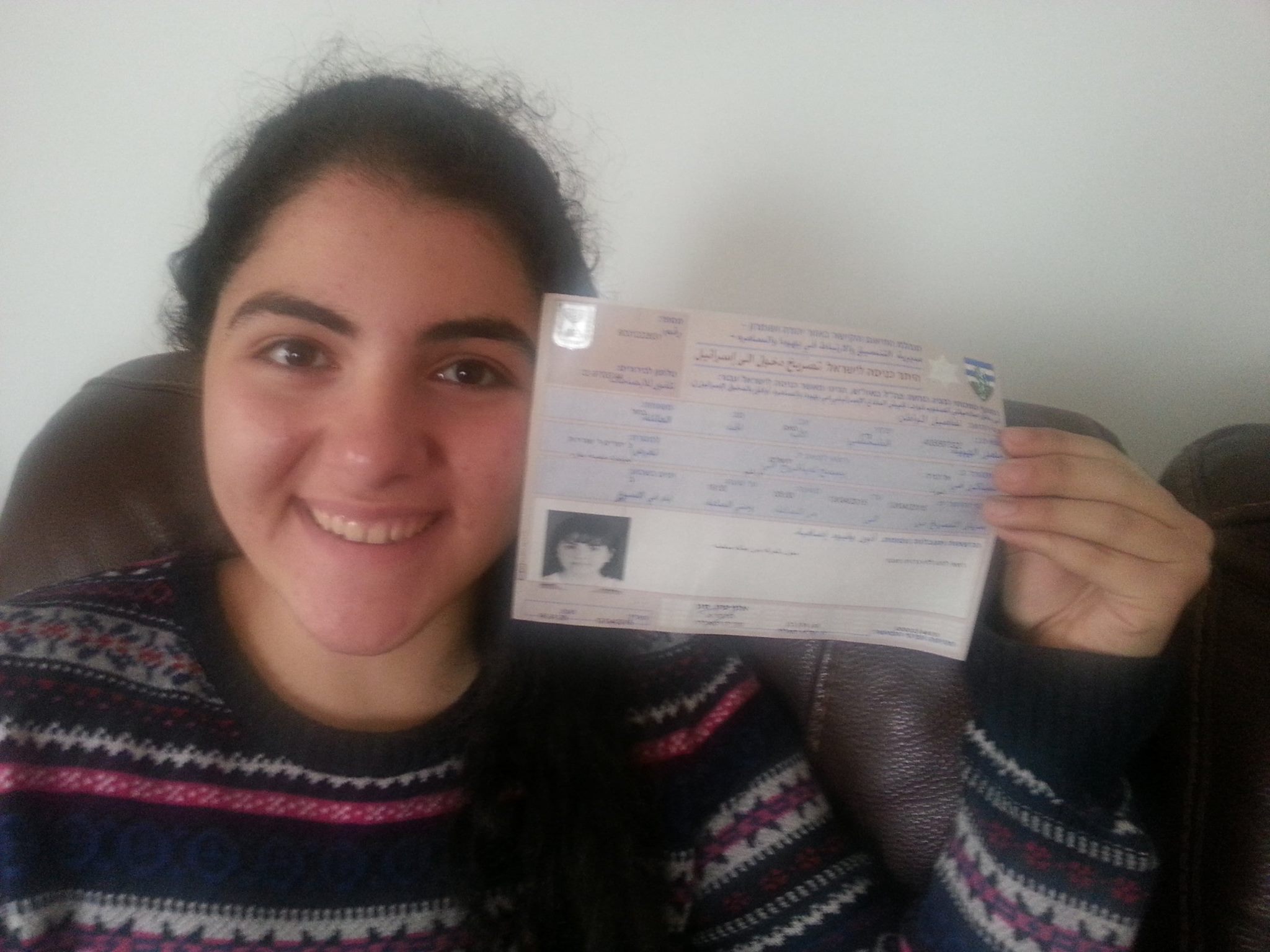 "Dad, where should I go, what should I say, what if they let me pass and not you and mom?" I asked these questions so many times as we were crossing the infamous Qalandia check point separating the West Bank from Jerusalem that I got tired of hearing myself. This was the first time I was entering Jerusalem with my own permit and my first visit to the city in five years. The reason for all the trouble was that I needed to renew my US passport which could only be done at the Consulate in Jerusalem and at 15, I now needed my own Israeli military issued permit to enter the city.
The day before my big trip to Jerusalem, my mother and I had braved the rain and cold to pick up the permit. We drove back and forth three times to the collection point only to be told to leave and return in half-an-hour. Yet, every time we returned, the same answer awaited us. Finally, after three hours, my dad tried his luck and we returned to find my permit sitting on the desk waiting for me. After these tiring trips, I was ready for the BIG DAY, I thought!
7:30 A.M. DING DING DING, my alarm clock rang waking me up for my trip to Jerusalem. I must say that my dad tells me that Jerusalem is only 10 minutes from our house and he used to drive there, but I would not know about that. Ever since I was born there has been an Israeli checkpoint and wall between me and the city. We walked from our house to the bus station and, after the long wait, boarded bus number 219 which heads to the checkpoint. When we reached the checkpoint the bus driver yelled out that anyone with a permit must get off and cross by foot. We got out and as we reached the first gate we were a little disappointed to see the long line ahead of us and hoped it would move quickly.
As we stood in line, a busload of students entered the waiting hall, maybe 100 students, and lined up behind us. It was packed and very loud. Time didn't pass as quick as those who say "time flies", but I got the chance to tell my mother my most recent jokes that I collected from friends and family. After I ran out of jokes we were only five people away from the security turnstile. I thought when we passed this gate we were done, but when we got to the turnstile I found another line and another turnstile beyond. We waited, again.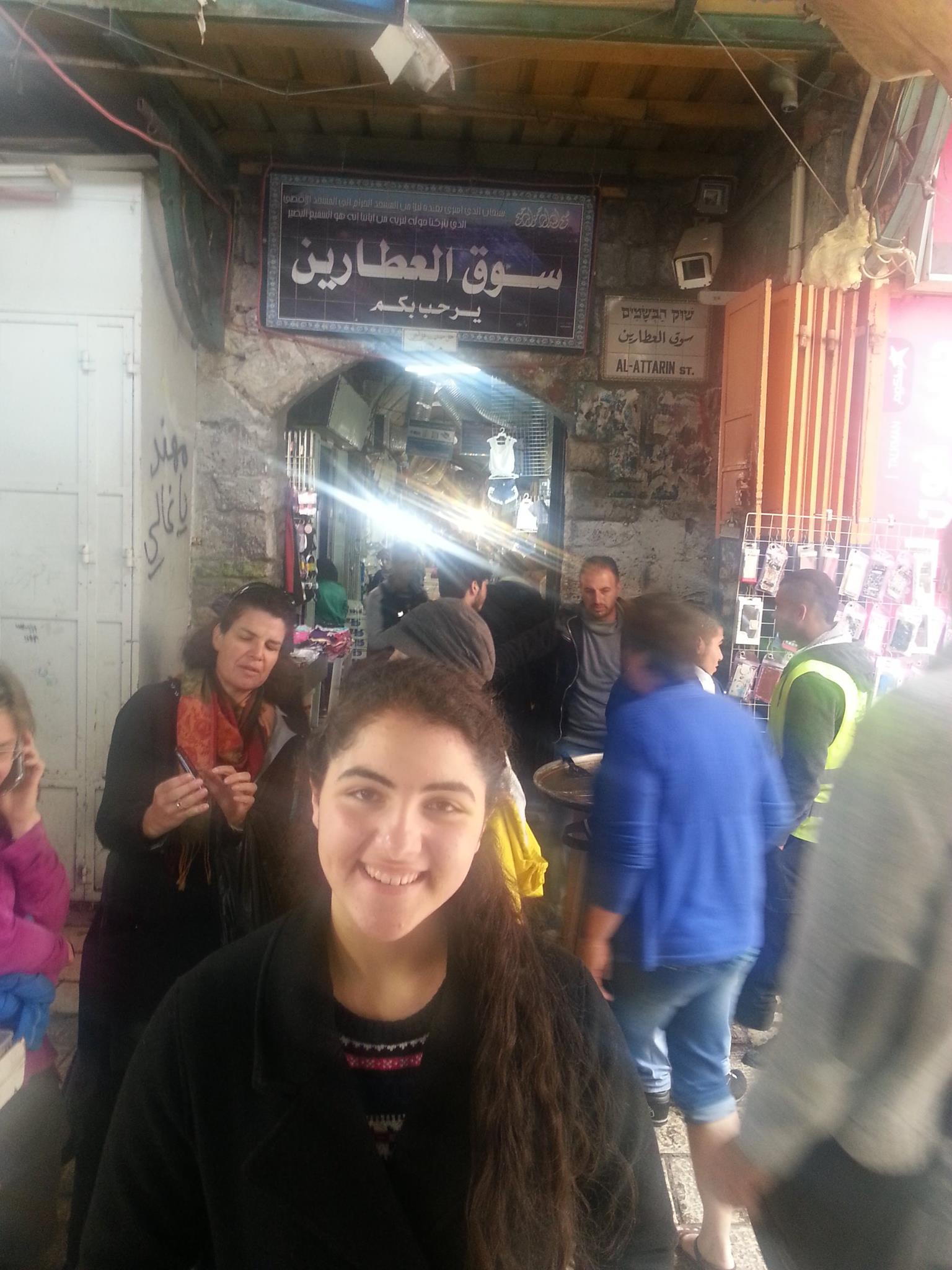 As I checked with my dad for the tenth time about what I should say we arrived at the security check. Although I memorized everything he told me, it felt different to have to hold my permit against a glass window with an armed solider on the other side. The solider was talking very loud through a speaker but he was speaking Hebrew and I don't know Hebrew. When my mom came up to place her permit on the window the solider started rapping through the speaker. My dad looked at him and said, "You are happy," and then said in Arabic "a happy occupier will be a failed occupier." Dad was not happy. At that moment it felt different. I felt the true meaning of being an occupied citizen, but at least I was in Jerusalem.
We got in another bus on the other side of the checkpoint and drove alongside the tall separating wall. After 20 minutes we arrived at the bus station at Damascus Gate. Even though it was only five years since I last saw Jerusalem, it felt like 50, I could hardly remember a thing! After we finished our appointment at the Consulate we walked around the Old City and then headed back to the bus stop. I love the Old City, but there was no time to see all that I had heard about. We visited the Church of the Holy Sepulchre which was neat. We did not have time to do much else. Mom and dad kept telling me how empty it was; they were used to many more tourists being in the marketplace. The return journey was much quicker as there are no checks entering the West Bank. I didn't know whether to be glad or upset. That's when I realized why my dad calls Ramallah a big cage.
I don't know when I will be able to visit Jerusalem again but I hope it's soon.
Nadine Bahour is a Palestinian student at the Ramallah Friends School in Palestine. She also is a U.S. citizen with roots in Youngstown, Ohio. She is active in her school's Model United Nations chapter and regularly contributes writings to the Friends School Newsletter. She may be reached at nbahour@gmail.com.