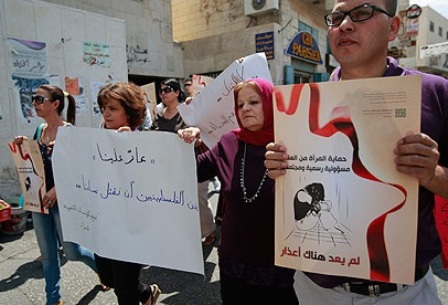 L, a mother of two, was referred to WCLAC's emergency shelter by the Palestinian Police Family Protection Unit. L need protection because after she told her family that she wanted to divorce her husband they hinted that her life would be at risk, even though the divorce was by mutual consent.
When L first approached WCLAC's social worker she explained how her husband had a criminal record and was never at home because he feared being arrested by the Palestinian police. The social worker and a lawyer from WCLAC made sure that L was sure of her decision to seek a divorce after the mandatory three consultations and then initiated the legal process. In the meantime, L was admitted to WCLAC's emergency shelter for her protection.
During counselling sessions at the shelter, L expressed a desire to continue her education. She had acquired good grades at secondary school and had a diploma in beauty therapy. In spite of these qualifications and her desire to study, L felt that she couldn't return to her studies now. WCLAC's service unit worked closely with L, providing her with psychological and social counselling in an effort to build up her self-confidence, affirming that she was more than capable of pursuing her studies and suggesting practical solutions to issues holding her back, such as childcare.
WCLAC's lawyers in conjunction with the police, summoned L's family and convinced them to respect their daughter's right to divorce. The parties reached an agreement, mediated by WCLAC, to guarantee L's safety. WCLAC then helped L through the divorce process and successfully represented her ain court. Following her stay at the shelter, WCLAC was pleased to learn that L has enrolled at university. In a follow-up meeting, L expressed that she was very happy with this decision since it would help her to find well-paid work so that she could support herself and raise her children on her own.
L is now a strong independent woman and legally divorced, living comfortably with her children on her own.