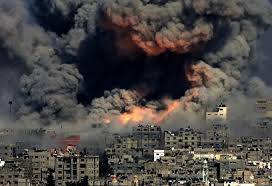 [29 January 2015] - On 23 July 2014, the Human Rights Council adopted a resolution in which it decided to establish an independent, international commission of inquiry (Commission of Inquiry) to investigate all violations of international law arising out of last summer's war in Gaza. Pursuant to this mandate, the Commission of Inquiry has invited individuals and organizations to submit information related to its mandate.
In response to this call, WCLAC has submitted
a report
to the Commission of Inquiry which includes 36 eyewitness testimonies collected by the organisation's Gaza fieldworkers. The evidence submitted by WCLAC includes cases involving fatalities, destruction of ambulances, ineffectual or false warnings provided by the military of an impending attack, displacement and property destruction. Some key points that stand out from the evidence include:
The sense of terror created by intense bombardment from land, sea and air in a civilian population without effective means of escape or defence;




Civilians sometimes ignore Israeli telephone warnings to leave their houses due to intense bombardment outside, because they do not believe the warnings or because they have nowhere to go. In one case a family apparently received a "knock on the roof" warning but did not hear it due to the intense bombardment outside. This raises questions as to the utility and effectiveness of such warnings; and




In spite of numerous statements made by the Israeli authorities that they were only targeting armed groups, 67 per cent of Palestinian fatalities were civilians including 521 children. It should be noted that for every Israeli who died in the conflict, 31 Palestinians were killed.
On 10 December 2014, the Israeli Government announced that it would not cooperate with the Commission of Inquiry and denied access to Commission members to the Occupied Palestinian Territory. Under its mandate the Commission of Inquiry will provide a report to the UN Human Rights Council by March 2015.
WCLAC's submission to the UN Independent Commission of Inquiry into the Gaza Conflict (29January 2015) is available
online.
LINKS