Testimony - On 10 December 2014, a group of settlers accompanied by Israeli soldiers attack a Palestinian home in the West Bank village of Al Mughayer. Halimeh lives with her husband and children in the West Bank village of Al Mughayer. Halimeh's youngest child is aged five. "On 10 December 2014, at about 12:30 a.m., my husband and I woke to the sound of someone trying to open our front door. We looked out of the window and saw a group of Israeli settlers and soldiers accompanied by a number of military vehicles. Our house was surrounded by people holding flash lights." Read more

---
The invisible damage of life under occupation -
Samah Jabr, one of Palestine's first female psychiatrists and a trained psychoanalytic psychotherapist, has spent her life witnessing and treating the psychological effects of the continued Israeli occupation on the Palestinian population. "I have a view of mental health; mental health cannot be served to people without justice and human rights. So this is also part of my engagement, I try to shed the light on the violations in human rights and the lack of justice for Palestinians because I consider them as important elements for the well-being of the Palestinian nation."
Read more
---

European parliaments continue to express support for Palestinian recognition –
In December, the parliaments of France, Portugal, Luxembourg and the European Union each passed non-binding motions calling for the recognition of a Palestinian State. This follows similar votes in the UK, Irish and Spanish parliaments as well as actual recognition by Sweden. While sometimes viewed as symbolic, these votes signal a shift in public sentiment as well as recognising that the status quo cannot continue indefinitely.
---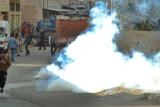 Stone Cold Justice wins top award -
At the annual Australian
Walkley Awards
for Excellence in Journalism held in Sydney 4 December 2014, the joint Four Corners, ABC TV and The Australian documentary – Stone Cold Justice – won the best award for investigative journalism for 2014. The documentary highlighting the prosecution of children in Israeli military courts aired on Australian national television in February 2014. A representative from WCLAC was interviewed for the programme and describes the devastating effect repeated night raids and the arrest of children has on women and families. It is estimated that the film has now been viewed by around 2 million people.
Watch film
---
WCLAC volunteers go back to school – In late 2014, six WCLAC volunteers held a number of workshops at three girls' schools in the West Bank city of Tulkarem. In total, the workshops were attended by over 1,200 girls and included the following activities and events: tree planting; improvements to school playgrounds; mural painting; awareness raising sessions dealing with sexual harassment and harassment via social media; women's rights; and career development. The feedback since the conclusion of the four-day event has been overwhelmingly positive with requests for similar events in the future.

---
Who are East Jerusalem's 'permanent residents'? - They were born and bred in the capital, but they aren't Israeli citizens and their status is anything but permanent. In some cases, it may even be revoked. It is called permanent residency status, but like many other things in the Middle East, it can be anything but permanent. With the recent flare-up in violence centering around Jerusalem, the Israeli government has been threatening to revoke the residency, or citizenship, of East Jerusalem Arabs who are involved in terrorism – even if only by association through a relative. Read more