Women's Voices: Ibtisam B. - The war in Gaza
| | |
| --- | --- |
| Name: | Ibtisam B. |
| Age: | 38 |
| Location: | Ash Shuja'iyeh, Gaza |
| Date: | 21 July 2014 |
| Nature of incident: | Military conflict |
On 21 July 2014, a family flees their home in the Ash Shuja'iyeh neighbourhood to escape an intensive Israeli bombardment that destroys their home.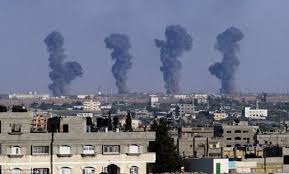 Ibtisam lives with her husband and children in the Ash Shuja'iyeh neighbourhood in Gaza. At around 5:00 a.m. on 21 July there was an intensive Israeli bombardment of our neighbourhood with bombs falling randomly all over the place. Due to the bombardment we fled our home barefoot. We ran through the streets in panic, along with many other people from the neighbourhood."
"At around 7:00 a.m. we reached a safer area, but we did not know where we were until an ambulance driver stopped and gave us directions. Later on a car stopped and gave us a lift to a UN school that had been opened as a shelter for displaced persons who had fled the bombing. We took shelter in a classroom with around 70 other people. The place was so crowded and unhygienic. Many people were ill. The bathrooms were very dirty and my daughters refused to eat or drink so that they would not have to use them. When we did need the bathroom we would walk to a nearby hospital rather than use the toilets at the school."
"Two days later we managed to get a tent and we pitched it in the school playground. Three days after that the Israelis bombed a mosque next door to the school causing some masonry and shrapnel to fall on our tent. During one of the short ceasefire periods we returned to our house to find that it had been destroyed. My daughter Iman, who is 15, became so emotional at the sight of our destroyed home that she fainted. My other daughter, Shahed, who is 11, cries every night wanting to go home. We have also all become sick because of the unhealthy living conditions."
At the conclusion of the interview Iman handed WCLAC's fieldworker a piece of paper in which she thanked God that her family was safe and hoping that they could find a small, clean house to stay in whilst they re-build their home in Ash Shuja'iyeh.
This statement was supported by a grant from the Open Society Foundations