Women's Voices: Jamileh J. - The war in Gaza
| | |
| --- | --- |
| Name: | Jamileh J. |
| Age: | 40 |
| Location: | Gaza |
| Date: | 20 July 2014 |
| Nature of incident: | Military conflict |
On 20 July 2014, a woman and her family are forced to flee their home in the Ash Shuja'iyeh neighbourhood due to an intensive Israeli bombardment. Once outside, her husband and daughter were killed as they approached a nearby ambulance that was struck by a missile.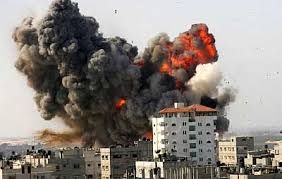 Jamileh lives in the Ash Shuja'iyeh neighbourhood with her husband and children. "On 20 July, I was home with my family and my other married daughter and her son were visiting us. Suddenly there was an intensive Israeli bombardment and our house was hit. We all ran outside and I saw my husband run back inside to get some money for us. My husband managed to get in and out fast without getting harmed, so we continued running until we reached a relative's apartment. When we calmed down and got settled I commented to my husband that it was not very wise of him to go back into the house to get money, as he could have been killed. But my husband said it was important so now we can afford to rent a house somewhere else in Gaza that might be safe."
"Just as my husband finished his sentence the third floor of the building we were staying in was hit by missile, so for the second time we ran outside to escape the destruction. Once outside we started to run. We saw an ambulance close by on the street corner. My husband and our daughter, Marah, who is 11, ran towards the ambulance. I was running behind them with my other children when I heard the sound of a missile which hit the ambulance. The ambulance, the medics, my husband and my daughter were all blown up in front of my eyes. My daughter Marah flew up in the air and hit the wall. We were not able to get any closer to them, things were exploding around them and fire surrounded the place. People were screaming everywhere, everyone was terrified but I had to continue running with the rest of my children until we reached the hospital. At 5:00 p.m. buses came to the hospital and we were transported to one of the UNRWA schools, which was opened as a shelter for those who left their houses and ran away because of the Israeli bombardment."
"Four days later the locals brought me my husband and daughter's remains. My husband's body had no hands or legs. He had also been decapitated. My sons started to look for the rest of their father's body parts in a bag that contained the remains of several bodies found after the bombing. My daughter was injured in her head and body."
"I am getting treated in the Al-Quds hospital as I was hit by shrapnel in my hands and in my side. I find it hard to breath; it feels like my chest is on fire. I saw my daughter killed in front of my very eyes. I couldn't do anything to save her, why did she and my husband leave me."
Note: Jamileh then started to call her husband's name, Shaker, and then lost consciousness. The doctors came and gave her a sedative.
This statement was supported by a grant from the Open Society Foundations