Women's Centre for Legal Aid and Counselling (WCLAC)
Case Study: Tubas Charitable Society, Capacity-building of the grassroots organisations program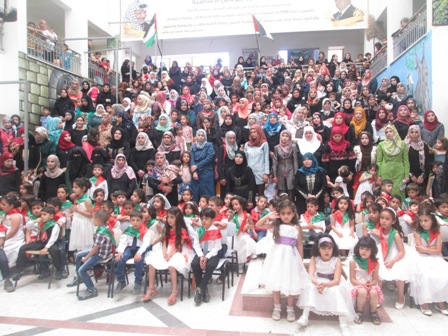 The Tubas Charitable Society (TCS) was established in 1966 to provide charity work in the form of early childhood education and vocational rehabilitation for women in knitting and embroidery to contribute to women's economic empowerment; the organization became successful and gained momentum, due to its grassroots approach, to the degree of extending its services not only within the city's boundaries, but to include the entire governorate.
The Women's Centrefor Legal Aid and Counselling (WCLAC) felt it prudent to expand its base on the ground by maximizing the number of women that receive legal advice and social counselling, particularly in the most marginalized, underserved and isolated areas in the northern governorates of the West Bank. The year 2011 marked the beginning of a fruitful partnership between the TCS and WCLAC, which commenced by integrating the legal and social services program within the work axes of TCS.This entailed building the capacity of the work staff of the organization in 1) provision of legal services and social counselling to women victims of gender-based violence, 2) administrative and financial management and 3) public relations and fundraising. In this sense, WCLAC provided TCS with the necessary tools and skills to set up a service unit to provide legal and social advice to women victims of violence and discrimination.At that time, this was not only of key relevance to women's needs in the Northern West Bank governorates, but also an urgent national priority in light of the increasing frequency in gender-based violence, incest and femicide.
The positive aspects of this partnership manifest in the creation of the first legal and social service unit in the governorate; this unit provides services to women victims of gender-based violence living in Tubas, surrounding villages, the northern valley and Jenin, who didn't have access to services before. Additionally, this unit provides protection for women whose life is in jeopardy by coordinating with relevant partners and escorting the women either to the safe house administered by the MoSA in Nablus, or WCLAC's shelter in Jericho. Additionally,TCS enjoys a good relationship with the social affairs directorate, police force and the governorate to the extent of becoming an accredited organization in receiving and providing services to women victims of gender-based violence, thereby facilitating and contributing to the protection of women. Also, TCS has provided women with on outlet to highlight and discuss women's rights issues on numerous levels, which contributes to promoting women's access to justice in inheritance, divorce, alimony and numerous other internationally recognized rights that the majority of marginalized and underserved women are unaware of.
On a different level, WCLAC and TCS were able to overcome the various challenges and obstacles they faced. These can be summarized in facing administrative and financial challenges in light of the absence of administrative and financial systems; to overcome this challenge WCLAC integrated all members of the board of directors in the capacity building training in administrative and financial management. Another challenge was that TCS did not have a strategic plan; WCLAC responded by providing TCS with the necessary support and guidance to prepare a 1-year strategic plan, followed by a 3-year plan. On a different level, one of the minor challenges was during the capacity building training of lawyers; the newly graduating lawyers needed training in court processes, while the older lawyers did not feel that this was a necessity, due to the gap in experience. To overcome this dilemma, the more experienced lawyers supported and guided the less experienced lawyers in court processes and other related aspects. One of the ongoing challenges is the reluctance of women to demand their rights in the judicial system, mainly due to the predominant tribal societal approach; WCLAC is responding by continuing to work on women empowerment and communication with supportive bodies to demand their rights and protect women from violence.
WCLAC's capacity building approach proved to be successful in that it enabled TCS to secure funds from local organizations, including the Bank of Palestine and Welfare Association, alongside international donations from the Czech Republic and the Oxfam Novib AMAL Innovations Fund. This enhances TCS's sustainability and independence in determining priority issues and going about addressing these issues. TCS's grassroots approach made it a community focal point where numerous organizations, both official and civil, request receiving awareness-raising activities in women's rights, legal counselling and social counselling.