Women's Voices: Dalal S. - Night raid / soldier violence / prison visit
| | |
| --- | --- |
| Name: | Dalal S. |
| Date of incident: | 28 February 2012 |
| Age: | 44 |
| Location: | Haris village, West Bank |
| Nature of incident: | Night raid / soldier violence / detention / prison visits |
A mother descibes waiting two months for a permit to visit her son in a prison inside Israel. Transfering Palestinians to prisons inside Israel violates the Fourth Geneva Convention.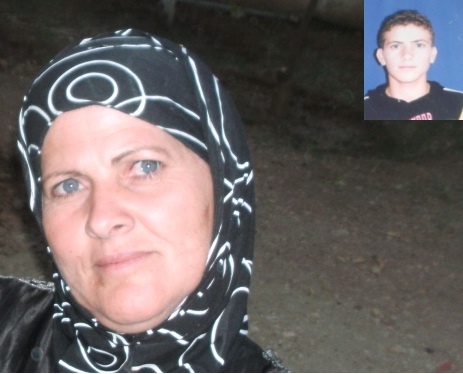 Dalal lives with her husband and five children in Haris village, in the north of the West Bank. The Israeli settlement of Ari'el is located nearby, partly on land belonging to the village. The construction of Israeli settlements in the West Bank is illegal under international law.
"On 28 February 2012, at around 2:00 am, I woke up to the sound of loud banging at the front gate," recalls Dalal. "Somebody was shouting in Arabic telling us to open the gate. It was a cold rainy night. My husband ran out to open the gate, and when he opened it, Israeli soldiers rushed in and entered the house. They were terrifying and my 3-year-old daughter cried when she saw them inside the house."
At first the soldiers refused to allow Dalal's husband back in the house and forced him to wait outside in the rain. The soldiers began to search the house without telling the family what they were looking for. "They made a huge mess with their muddy boots and didn't make any effort to be respectful," says Dalal. One of the soldiers then asked for Dalal's 19-year-old son, Itimad. "My husband pointed to Itimad and asked the soldiers what they wanted from him, but his question was ignored," recalls Dalal. Itimad was then blindfolded and his hands were tied. "One of the soldiers then kicked him and pushed him into another room, while another soldier led me and my other children to another room."
A few minutes later Itimad was taken out of the house. "He was not dressed properly and didn't have his shoes on," recalls Dalal. "My husband asked whether they would allow him to put on some warm clothes but they refused. Itimad asked to be allowed to go to the bathroom. At first the soldiers refused but then they allowed him to go and one of the soldiers entered the bathroom with him. Then they took him away. All this happened so quickly, they snatched him away in front of my eyes. I did not sleep that night. I felt helpless and scared. Our neighbours told us the following day that as soon as the soldiers left the house with Itimad they started to beat him very hard. They slapped and kicked him with the butts of their guns all the way to the vehicle which was about 100 meters away. The neighbours also told me that Itimad passed out when he was kicked in the head. I nearly passed out myself when I heard this," says Dalal.
The next morning Dalal's husband called a human rights' organisation to find out why their son had been arrested and where he was being held. They also wanted to know if Itimad was alright after being told by their neighbours that he had been beaten. Dalal's husband gave the organisation their son's I.D. number and they called back 15 minutes later to say Itimad had been taken to a hospital near Petah Tikva, inside Israel. "My husband immediately called the hospital for more details about Itimad's health but the hospital refused to give him any details," recalls Dalal. The family was later informed that Itimad was taken to Huwwara interrogation centre, near Nablus, in the West Bank, after being released from hospital.
"I haven't been sleeping well since he was arrested. I worry all the time that soldiers might beat him up again. He is now in Megiddo prison inside Israel. I applied for a permit to visit him but it took two months before the permit was issued. On 30 May I saw him for the first time. I went with my younger son to visit him. We left the house at 6:00 am and didn't get back until 7:00 pm. The trip was exhausting and humiliating. The minute I saw Itimad I started to cry, I couldn't hold back my tears. He seemed in good health but I could feel he was very sad. The visit lasted for half-an-hour and I cried the whole time. When he saw how emotional I was he asked me not to visit him again. I think he was emotional too and didn't know what else to say. At the end of the visit he waved his hand good bye but did not look me in the eye, he couldn't."
"When I got back home I was exhausted. I still cry a lot and I am unable to go about my daily routine as usual," says Dalal. "I feel my hands are tied; I am unable to do my house work. I don't have the energy I used to have. I just wish he gets out of jail as soon as possible. His next court hearing is next Thursday and I am hopeful for good news. This is not the first time that he was arrested. Nearly one year ago he was arrested for 20 days and we had to pay 2,500 shekels ($650) to get him released on bail. I worry that they will keep coming back for him. This will destroy his future," says Dalal.
According to UN figures, well over 700,000 Palestinian men, women and children have been detained by Israeli authorities since 1967. The transfer and detention of Itimad out of the West Bank to Megiddo prison inside Israel, is in violation of article 76 of the Fourth Geneva Convention which expressly prohibits such transfers.