Women's Voices: S.D. - Jerusalem women
| | |
| --- | --- |
| Name: | S.D. |
| Age: | 21 |
| Location: | Jerusalem |
| Nature of incident: | Residency rights |
| Date of incident: | 4 July 2012 |
On 4 July 2012, 21-year-old Palestinian Christian woman from Jerusalem describes how her freedom of movement and her right to practice her religion have been restricted by Israeli government policies.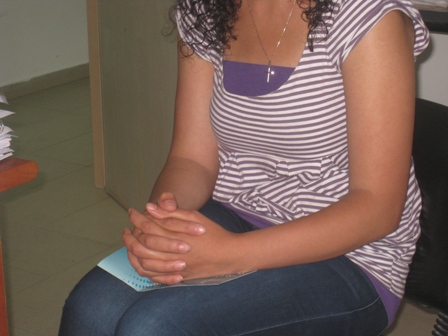 S.D. is a 21-year-old Palestinian Christian woman from Jerusalem, who is studying at Bethlehem University. "My father's family owned two houses, one in Jerusalem and another in one of the remaining Christian villages in the West Bank," says S. "The house in the village was my father's family's summer house. They spent most of the time in the house in Jerusalem and spent the hot summer months in the village. After my father separated from his first wife, he gave her the Jerusalem house and moved to the village where he started a new family. He did not realise at the time that giving up the Jerusalem house was going to cost us our residency rights in Jerusalem," says S.
"When I turned 15 I went to the Israeli Ministry of Interior in Jerusalem to have my Jerusalem identity card issued. Without an identity card I am unable to enter Jerusalem or travel abroad or even travel within the West Bank. I thought this was going to be a routine procedure as was the case with my older siblings, but I was wrong. I went with my mother and we were unlucky to have an employee at the ministry who was unhelpful and rude. As required, I had my birth certificate with me which proved I was born in Jerusalem and had a Jerusalem I.D. number but the official told me it wasn't enough. He asked me to present him with my school certificate. He also asked my mother to bring proof that we pay the Jerusalem municipal tax. My heart sank when I heard this and I felt my life was going to be hard from now on. I could not understand the link between school certificates and identity cards. It felt as if someone had slammed a door in my face," recalls S.
"We could not present Jerusalem tax slips since we left the house in Jerusalem. My school certificates were not going to be of any help since what the authorities are looking for is proof that I live in Jerusalem. What bothered me most was the manner in which the official treated my mother. I was very upset when I saw how disrespectful and rude he was. I asked him to please be polite but instead he became worse. He accused me of not having enough interest in a Jerusalem identity card and immediately typed something into the computer. My mother and I felt it was best if we left, and we did."
"During this time I used my birth certificate and a temporary travel document to move around the West Bank and at checkpoints. I also traveled abroad, but when the temporary travel document expired I began to have problems. Soldiers at checkpoints would not let me cross: I was 16 which meant I was no longer able to use my birth certificate as an official document and my temporary travel document had expired. That is when I decided to go back to the Israeli Ministry of Interior hoping this time a different official would process my application. Unfortunately, the same official dealt with me. He asked me again for my school certificates and for the tax slips. My mother and I decided to appoint a lawyer. I was 17 by then. The lawyer was able to get the Ministry to issue me with a piece of paper valid for two months which allowed me to cross checkpoints pending the completion of my application for a Jerusalem identity card. But processing my application took much longer than two months," recalls S.
"I felt the clamp closing in on me," says R. "When I turned 20 I went back to the Ministry. This time I had municipality tax slips; my brother and I had rented a small apartment in Jerusalem which was very expensive. During this time I went to Bethlehem University and was stuck there for months. I could not go home to see my family during holidays because I did not have any official documents that would allow me to cross checkpoints. I also could not go to Jerusalem on Sundays or any other day. This bothered me a lot because I am an active member of the church. I could not take part in church trips abroad. All my friends traveled and I could not. I couldn't visit my doctor in Jerusalem when I had some health problem. I could not attend my niece's wedding in Jerusalem two weeks ago. The whole family went and I stayed home. I was miserable."
"I am in despair and I don't know what to do," says S. "I am a stateless person, I have no official papers. I don't exist as far as the Israeli authorities are concerned. I cannot obtain any other document which means I will be stuck at home for ever."
"I sometimes cry, not only because of my situation but because I am worried that the authorities will chase my brothers and sister and strip them of their rights. This is what happened with other families; one person would have an issue with the authorities and the whole family situation is undermined. Israeli authorities don't want Palestinians in Jerusalem; they want to restrict their numbers there and to limit their access to it. Unfortunately they are succeeding. Our financial situation is not great and I cannot afford to rent a house in Jerusalem, we had to give up the house my brother and I rented. I sometimes take risks and travel within the West Bank without documents but I panic when the car I am in approaches a checkpoint, I never know what to expect. It happened twice that soldiers asked me to step out of the car and sent me back home."
"I often think about my future. If I am to marry someone from Jerusalem and have children my husband and children will have problems. We won't be able to live in Jerusalem as a family. My choices are limited, and my world is shrinking. Jerusalem is being emptied of its Palestinian residents, one person at a time. For us Christians the problem is worse," says S.
According to a 2008 survey, there are 50,000 Palestinian Christians living in the West Bank and East Jerusalem. A further 1,000 to 3,000 Christians live in the Gaza Strip. According to the
US State Department
, the Palestinian Christian community is primarily concentrated in Jerusalem, Ramallah and Bethlehem, but smaller communities live elsewhere. Citing local Christian leaders, the State Department reports that Palestinian Christian emigration has accelerated since 2001, in part due to the limited ability of Christian communities in the Jerusalem area to expand due to Israeli building restrictions and family reunification limitations imposed by the Israeli government.