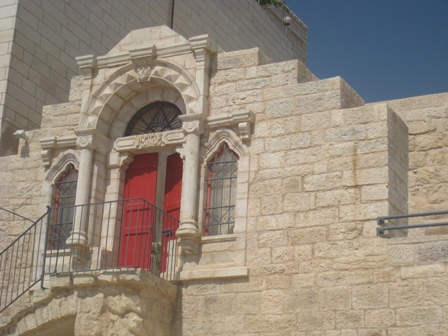 WCLAC's resource centre - Dar Makhlouf – is a historic and affordable place for academics, journalists, NGO workers, activists and volunteers to stay. The centre has two studio apartments with kitchenettes, each fitted with two beds, and able to accommodate more if requested.
The ground floor Conference Hall can seat 80 people and is available to NGO's, individuals and community groups as a venue for workshops, exhibitions, film-showing or regular meetings.
Historical, practical and beautiful, the centre is well located: set in a quiet neighbourhood, but with good access to and from Jerusalem and Bethlehem. The building is marked by original 19th century stonework, traditional carved decorations and architecture denoting its construction as a home fit for the head of the Makhlouf family to receive visitors. The building and its current use elegantly combine antiquity and modernity.
Accommodation is available in the upper floor of the building, with privacy from the public area, but also with a sense of living amidst the history. Being in a traditional residential area tucked away from the trunk roads, Dar Makhlouf residents can feel part of the community of the old city of Beit Jala. Up the stairs and behind an ornate gateway, is a shared patio for use by Dar Makhlouf staff and residents. Old clay pots once used for storage are now flower planters and patio decorations, while what was the family kitchen – now a small office next to the studios – still holds the old grain store.
The en-suite rooms have modern appliances – wireless internet, a desk and chair, a heater and fan, a hot plate and a fridge; yet they retain original patterned mosaic floors and wide stone walls. The patio and bedroom windows give breath-taking views over the rooftops of Beit Jala and Bethlehem and beyond, over the hills of Palestine: a landscape bearing beauty and heritage, as well as the scars of occupation.
The ground floor Conference Hall was the original reception area of the Makhlouf family. While the enduring elegance of the house remains the same, the gender-divisions have been shaken; this area, once exclusively for use by men, is now an excellent facility for men and women seeking to promote gender equality and self-determination for Palestinians in a society moving beyond its patriarchal heritage. Still used for receptions, the hall is now fitted with a kitchenette and bathrooms (the latter are now the only gender-divided space in the building).
Dar Makhlouf is managed by WCLAC, the Women's Centre for Legal Aid and Counselling. Its purpose is to facilitate the visits and activities of those people standing in solidarity with Palestinians, affirming their human rights as men and as women. For more information on short- or medium-term accommodation or for hiring the Conference Hall please contact WCLAC through the details below:
Telefax: +972 2 295 4146 / 7 / 8
Email: darmakhlouf@wclac.org
Address: Dar Makhlouf, 76 Al-Mughtaribeen Street, Beit Jala (near Bethlehem), West Bank