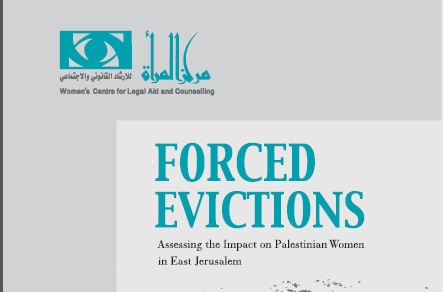 In November 2010, WCLAC released a new report assessing the impact of forced evictions on Palestinan women in East Jerusalem.
This report focuses on East Jerusalem, where many Palestinian women are affected by forced evictions and displacement, and in many cases the subsequent demolition of their home. The report analyses the short and medium term impact of these events on women. International humanitarian law and international human rights law provide the framework for the report, and substantiate the fact that these issues are violations of human rights, and of women's human rights in particular. The testimonies also illustrate the cross-cutting nature of many of the issues and rights violations. While housing rights are the dominant issue many other rights are affected: the right to family life; residency rights; the right to freedom of movement; and many other economic and social rights.
The full report - Forced Evictions: Assessing the Impact on Palestinian Women in East Jerusalem (November 2010) - is available on line.