Women's Voices: Manal Z. - Jerusalem women / property destruction
Name: Manal Z.
Date of incident: 10 November 2008
Location: Silwan, East Jerusalem
Nature of incident: House demolition
On 10 November 2008, a pregnant mother with five daughters received a telephone call informing her that herhouse in the Silwan neighbourhood of East Jerusalem was about to be demolished.
Manal is married and now has six daughters. She lives in the Silwan neighbourhood of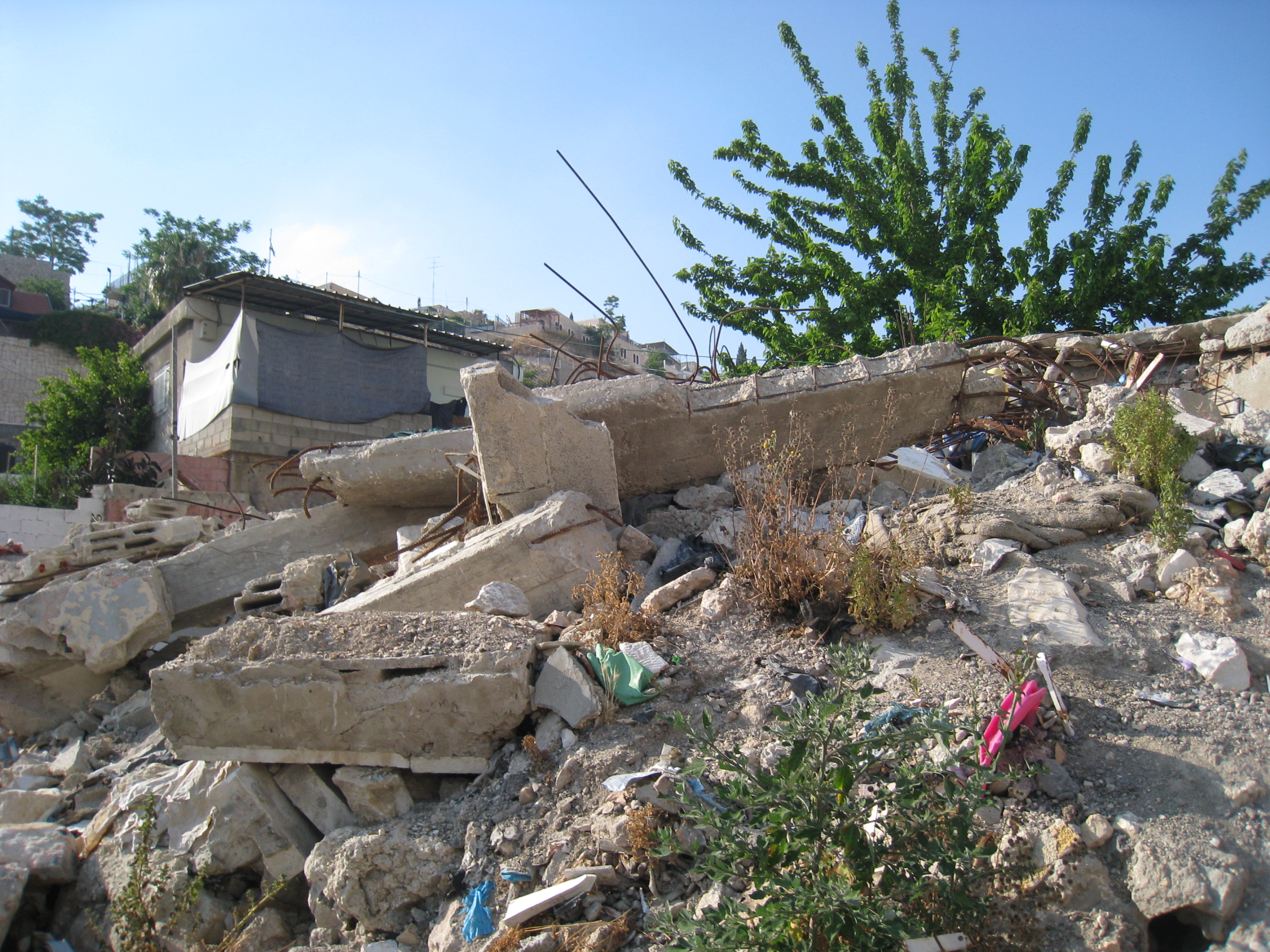 East Jerusalem. Manal's husband is from a village near Bethlehem and is not able to legally live with his wife and children because he has a West Bank I.D. card which does not permit him to live in East Jerusalem.
'When I first married I lived with my husband in a rented flat in Silwan, but he hated it because he was illegal in Jerusalem and had to live as if he was under house arrest,' recalls Manal. 'We moved briefly with him to his family village but then moved back to Jerusalem because Israel revoked my Jerusalem I.D. card, and to get it back, I had to move back with my children. We applied for family reunification for my husband but his application has been rejected and he still can't live with us.' Over the years Manal has moved between her parents' and her sister's houses in Silwan. 'At one point I moved out to live in a rented house in Silwan, but the landlord would not provide me with the necessary documents to show that I am living in Jerusalem. I needed these documents to present to the Israeli authorities because without them I won't be able to keep my I.D. In 2008 I moved out of this house and into another rented house in Silwan. We paid three months rent in advance and moved our furniture and belongings into the house,' she explains. 'We had only been in the house for one week when the house was demolished.'
'It was November 2008,' recalls Manal. 'I was six months pregnant with my youngest child. On that morning I was having breakfast at my parents' house and my daughters, except my youngest daughter, were at school. I received a phone call at about 10:00 am from one of my neighbours saying: "Come home! They're about to demolish your house." I didn't believe her but left my mother's house and ran back to my house. On the way back, I saw many police and soldiers around the house. There were perhaps five jeeps and about 30 police and soldiers standing around the house. The owner of the house was arguing with them saying that he was waiting for the paper to stop the demolition. But then, after about an hour of waiting, two bulldozers that were there started to demolish the house. I had known nothing about a demolition order on the house; it came as a complete shock to me,' Manal says.
'Everything that I owned was in the house, my clothes and the girls' clothes, school books, kitchen things and most importantly, medical records and equipment for my daughter, Hayat (13), who suffers from a heart condition. I begged the soldiers to allow them to let me take my personal possessions out of the house. I said that I didn't care about the house, that I only wanted to get my things,' remembers Manal. 'They refused to let me into the house, but they sent some men in who took out a few things – a couple of couch beds, a refrigerator and the TV, which were the first things they would have seen when they walked in. They just threw them out of the house – breaking the legs on the couch beds. I couldn't do anything about it – I had a severe headache and felt like I couldn't walk.'
'It took about an hour-and-a-half for the Israelis and their bulldozers to destroy the house. The whole house collapsed on top of our things, so we couldn't get anything else out. All our things were lost. My daughters had saved up money for the Eid holidays in money boxes, but even these were lost in the rubble. They also had new clothes in the house which had been bought for Eid. My daughters found out that their home had been demolished on their way home from school. I felt awful that they had to go through this. My five year old daughter was particularly upset about her new clothes being lost.'
Manal's health suffered after the demolition and her baby was born two months prematurely and remained in an incubator for one month – 'but she is healthy now,' says Manal. The family had to move back in with Manal's parents. 'It was very crowded,' she says, 'and my husband didn't want to come and visit us there because there was no space. Me and my daughters all slept in one room, the living room. It was very difficult. My children's school performance suffered – they couldn't study because there was no space and too much noise with so many people. The only person working in the house was my brother who supported us all,' says Manal.