Women's Voices: Rimaz K. - Residency rights
| | |
| --- | --- |
| Name: | Rimaz K. |
| Age: | 33 |
| Location: | Beit Hanina, East Jerusalem |
| Nature of incident: | Residency rights |
| Date of incident: | 12 July 2009 |
In 12 July 2009, a Palestinian Christian woman from the West Bank describes the restrictions placed on her when she married a man from East Jerusalem.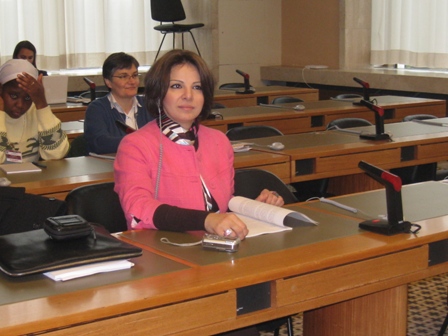 Rimaz is a Christian Palestinian woman from the West Bank. In 1996 she married Ghassan, a Christian man from East Jerusalem. They now have three children: Salim(12), Sari (10) and Serina(6).
"After we got married we lived in a house owned by my husband's family in East Jerusalem. My husband and I knew that the process of obtaining a Jerusalem identity card for me through a family unification application was not going to be easy," says Rimaz. After graduating from university, Rimaz got a job at a private school in East Jerusalem. "I was very happy to find a job so quickly. The problem was that now I needed to cross an Israeli checkpoint in order to get to work. Over the years this became more difficult for me with my West Bank Identity Card which under Israeli law, doesn't allow me access to Jerusalem. This was in 2001."
Rimaz recalls that she was often turned back at the checkpoint because she did not have a Jerusalem Identity Card, preventing her from getting to work. "The School then issued me a card saying I was employed by them. That did not help much. In order to avoid passing through the checkpoint I used to walk on dirt roads and climb over the hills. I rarely made it to school on time. In the winter I would arrive completely wet and cold. In the summer I would be hot and sweaty. I always carried extra clothes and an extra pair of shoes with me. It was difficult to carry all those things without a car," she recalls.
"In 2003 the Israeli authorities introduced more regulations to prevent West Bankers from being in Jerusalem. For example it became illegal for taxi and bus drivers in Jerusalem to take passengers with West Bank identity cards. Taxi drivers would ask each and every passenger about their identity card to make sure it was from Jerusalem. If they didn't have a Jerusalem identity card they would not allow them in the taxi," recalls Rimaz.
"It became increasingly difficult for me to get to work or to go anywhere in Jerusalem," says Rimaz."I couldn't go shopping; I couldn't visit my friends; I couldn't take my children to school or to a doctor or even to the hospital. During the summer holidays my children and I could not go anywhere together. I couldn't take them to summer camps where other children their age went. I was completely dependent on my husband who was very busy. This affected my children too. They couldn't understand why their friends' mothers took them places, drove them around and did things in the city with them while I couldn't. They were too young to understand. I sometimes felt they resented me. It was very difficult for all of us," recalls Rimaz.
"Sometimes I took risks," says Rimaz."I had no choice. One day I was going to school. It was 7:30 am and I was 9 months pregnant with my daughter Serina. I took a taxi to Jerusalem and didn't tell the driver I didn't have a Jerusalem identity card. An Israeli policeman stopped the taxi and asked for our identity cards. When the policeman found out I did not have the right card he asked the driver to pull over, took his name and license number and told him next time he was caught with West Bankers in his taxi the police would confiscate the taxi. The policeman then pulled me out of the taxi and tried to push me into a jeep. I refused and told him I was pregnant and didn't want to sit in a jeep. The policeman then asked the taxi driver to take me to the police station in the settlement of NeveYacov. I was released two hours later after they checked my records and realised I was married to an East Jerusalemite. They made me sign a piece of paper pledging I would not enter Israel, which according to their definition, includes East Jerusalem where I lived," recalls Rimaz.
"In October 2003 I was again caught in a taxi. This time it was really horrible because the police punished the taxi driver by confiscating his taxi for three months and taking his driver's license. This meant that the taxi driver could not work for three months. The taxi driver blamed me for this and asked me to pay him a large amount of money as compensation. He used to wait for me outside the school gate until it was time for me to go home and would verbally harass me saying if I didn't pay him the money I would be in trouble. In the end my husband paid him some money and he stopped harassing me," says Rimaz. "After this incident I decided to quit my job. It was impossible for me to continue to work this way. I was very sad because I enjoyed my job. I am not allowed to drive my husband's car without a Jerusalem identity card and my family cannot even come to visit me because they carry West Bank identity cards and are not allowed to cross the checkpoint," says Rimaz.
"Nearly three-and-a-half years ago the Israeli Ministry of Interior finally told me they accepted my application for family unification. They gave me a piece of paper, which was valid for one year on the basis of which I could apply for a permit to enter Jerusalem. Although this does not mean I was a resident of Jerusalem, at least it meant I could take a taxi and go places," says Rimaz.
Rimaz must renew her permit to live with her husband in Jerusalem every year. "It takes weeks sometimes months to just get through to the Ministry of Interior for an appointment. They just don't pick up the phone. My third permit expired in December 2008. Although I requested an appointment in time and submitted all the evidence they requested, it took them months to get back to me. This meant that during this time I was once again confined to the house. They told me they were checking my security record and that of my family, including my parents, my brothers and sisters and their families and the family of my husband. Without a permit I am unable to visit my parents in the West Bank because I wouldn't be allowed back home into Jerusalem at the checkpoint. They cannot visit me either. My husband and I appointed a lawyer to try to speed up the process of getting a Jerusalem identity card. After we paid him a large amount of money he told us the Ministry of Interior is not approving any more applications," says Rimaz.
"I have no idea how long this situation will go on for. My husband and I have been married for 13 years now and I am still unable to live a normal life. Many of my friends have the same problem. Nobody will employ me knowing that I am in Jerusalem on short-term permits which I have to renew every year. Everybody knows that renewing the permit is not guaranteed. I feel I am loosing the best years of my life sitting at home," says Rimaz.