Women's Voices: Shukriyeh T. - Night raid
| | |
| --- | --- |
| Name: | Shukriyeh T. |
| Age: | 54 |
| Location: | Shufat refugee camp, East Jerusalem |
| Nature of incident: | Night raid |
| Date of incident: | 7 December 2011 |
On 7 December 2011, the home of a 54-year-old mother from the Shufat refugee camp, in occupied East Jerusalem, is raided by Israeli soldiers at 4:00 am, and her two sons are arrested and accused of throwing stones.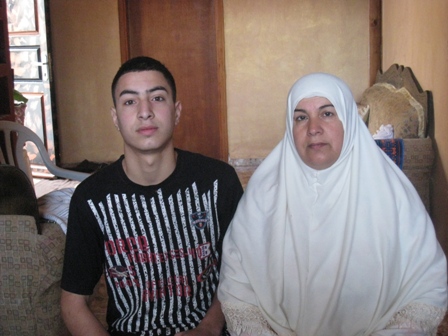 "I was asleep when suddenly I woke up to the sound of loud banging at the door in the middle of the night,"recalls Shukriyeh. "I think it was 4:00 am. I jumped out of bed and without thinking I went to the door to see who it was. 'Open up, this is the army, open up or I will break the door,' somebody told me. I was terrified and went back to tell my husband. My husband opened the door and there were about 20 soldiers carrying guns. One of the soldiers asked us to bring all the children to the living room. Only Mohammad and Zeidan, who is 22-years-old, were at home that night. He asked them both to sit on the couch and asked me to bring them clothes. He then tied their hands behind their backs with plastic ties. I was trembling to see all this happen in front of my eyes but I did not show my fear to the children. I tried to collect all the strength that I had," says Shukriyeh.
A soldier told Shukriyeh to come to Al Mascobiyya interrogation centre in West Jerusalem at 6:00 am, and then they left with her two sons. "My sons pretended not to be afraid," recalls Shukriyeh. "This is the second time that Zeidan was arrested. The first time was when he was 16-years-old. I tried to comfort my sons as they were taken out of the house and told them not to be afraid and not to confess on others. We could not sleep for the rest of that night."
"By the time I got to Al Mascobiyya it was 8:00 am," says Shukriyeh. "My husband couldn't accompany me because he felt sick. One of the soldiers took my I.D. card and went away with it for about half-an-hour. I later found out that my two sons had already been interrogated without me being present. At 2:00 pm I was told that my sons would appear in court in front of a judge. I went to the court and found that three other boys were being tried together with my sons. The session was held in Hebrew and I couldn't understand what was going on. I was not allowed to speak to my children in court, but they whispered to me across the court and told me they had already been interrogated. Mohammad told me he was hit on his head with a bunch of notepads, but he wasn't badly hurt. Zeidan later told me he was asked to sign a piece of paper without understanding what it said. My son does not read or write. He also told me the interrogation went on from 6:00 in the morning until the afternoon. They kept asking him the same questions over and over again; things like 'why did you throw stones?' and 'who told you to throw stones?'
"This was not the first time that soldiers broke into our house in the middle of the night," says Shukriyeh. I believe Mohammad confessed to the charges out of fear. This is what he told me. This was the first time that he was arrested and he was frightened. I worry about Mohammad and his future. He dropped out of school and has no desire to go back. Most of his classmates have also dropped out of school. They don't see any value in going to school. Our economic situation is quite bad and he thinks by finding a job he can help out. Many children have been arrested since the new checkpoint at the entrance to our camp was put up. The checkpoint is making our lives very difficult. Not only is it a place where kids get arrested but it also makes access to our camp very difficult. I now have to walk on foot for a long distance each time I go in and out of the camp. There are lots of stairs and lots of metal turnstiles. I have to carry my shopping by hand and walk for more than 500 meters. I believe they want to get rid of us, they want to disconnect us from Jerusalem by making it harder and harder for us to enter the city although we are residents of the city. Things don't look good, not for me, and definitely not for my children," says Shukriyeh.
According to Shukriyeh, Mohammad was held for seven days and then released and placed under indefinite house arrest. If he is found outside the house the family will have to pay 10,000 Shekels (about US$2,700). He was accused of throwing stones.