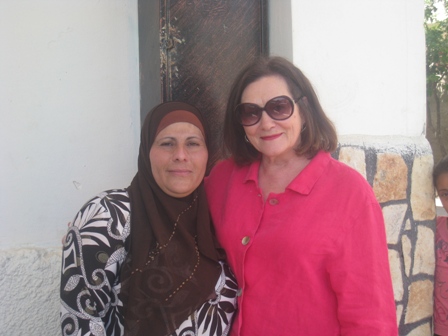 [2 June 2012] – On 15 May 2012, Dame Joan Ruddock, a member of the UK parliament, gave a passionate speech about what she saw as part of a delegation from the all-party Palestine group and the Council for Arab-British Understanding (CAABU) that visited Palestine and Israel in early May.
During their visit to the region, the delegation visited Ofer military court where children as young as 12 are prosecuted mainly for throwing stones. Many of these children come from the town of Beit Ummar, which the delegation also visited. The town is located approximately 10 kilometres south of Bethlehem, in the West Bank. The village is surrounded by a number of Israeli settlements, the closest being Karmi Zur, which is located about 400 metres away, and is built on agricultural land belonging to the village. A road used by the Israeli army and settlers also passes close to the village and is a constant source of friction leading to frequent raids and arrests, particularly of young people accused of throwing stones. The residents of the village also hold demonstrations against the settlement every Friday, which frequently end in the arrest of young men.
In her speech to parliament, Ruddock described meeting a mother of six from BeitUmmar who described life under occupation:
"We met Hamda, whose husband is a member of the committee that organizes the protest. She told us about the treatment of her son, Yusef, who was first arrested and imprisoned when he was 12, and has been jailed three times since. On the last occasion, the soldiers came for him at 1:30 am. They surrounded the house and banged on the door, their faces masked. They tied Yusef's hands behind his back, made him lie face down, and then hit and kicked him. As he screamed in pain, his mother attempted to go to him, only to be hit in the chest with the butt of a gun, which fractured her rib. Yusef was blindfolded and led away. The family was forced back indoors, and the departing soldiers threw tear gas canisters into the house."
"Clearly, I do not know whether Hamda's 16-year-old son, who has been in prison for the past three weeks awaiting trial for stone throwing, did it or not, and I do not know whether Yusef, now 19, was guilty on four occasions, but I do know that the father of the family has repeatedly protested against the settlement that has taken their land and that the family feel they are being targeted. I also know that young Palestinian boys and men must feel a constant sense of humiliation and frustration."
"When we asked Hamda, the mother to whom I referred, what she thought of the future, she said, 'There is no future for my sons.' We must not allow that to be the case," said Ruddock.
Related links: