Women's Voices: Bushra T. - Night raid
| | |
| --- | --- |
| Name: | Bushra T. |
| Age: | 39 |
| Location: | An Nabi Saleh, West Bank |
| Nature of incident: | Night raid |
| Date of incident: | 20 March 2012 |
On 20 March 2012, the home of a 39-year-old mother from the village of An Nabi Saleh, in the occupied West Bank, is raided by Israeli soldiers after midnight and documents, including title deeds, are taken.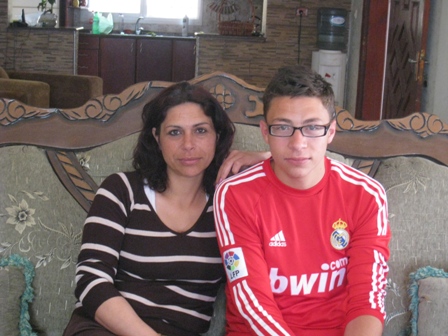 The village of An Nabi Saleh is located 15 kilometres north of Ramallah and has a population of 500 residents. In 1977 the Israeli settlement of Halamish was established about 500 metres away, partly on village lands. In 2009, the settlement expanded still further taking over a spring belonging to one of the villagers. This was the spark for weekly Friday demonstrations by the residents of the village against the settlement. The response from the Israeli army has been to conduct frequent night time raids, which create a sense of fear and insecurity in the village.
"I was still awake when I heard the sound of cars pulling up in front of our house just after midnight," recalls Bushra. "I then heard loud banging at our front door. Anan, my 16-year-old son was awake too. He rushed into my bedroom to tell me soldiers had surrounded our house. I immediately assumed they had come to arrest him as they have done twice before. I was scared and worried that they might beat him up as they did before. I woke my husband up and told him soldiers were around the house. We all went downstairs and my husband opened the door. About 15 soldiers rushed in and immediately started to search the house. They spread out into each and every room and did not tell us what they were looking for. The Commander then asked my husband to ask all of us to gather in the living room. My husband told them our two young daughters were asleep but he told him to wake them up and bring them downstairs. I quickly rushed upstairs to get the girls. I didn't want the same thing to happen as last time when our house was raided and the girls woke up to find army dogs in their bedroom. It was a terrifying experience for them," says Bushra.
"Soldiers then took apart the computer and took out the hard drive and placed it on the table. We didn't know what was going on and my husband kept asking them questions but they did not answer. They also put the laptop aside and some magazines," recalls Bushra. "My husband became very upset and insisted on knowing why they were placing all these items on the table but they did not pay any attention to him. Soldiers then went upstairs and searched the wardrobes. They found a bag with all our official documents which included land ownership deeds, birth certificates and other important documents. They took the stack of papers together with the laptop and hard drive and left. When my husband realised they were leaving with these official documents he followed them outside asking them to at least give him some kind of a proof that they had left with all these items but they ignored his request. The soldiers left our house about half-an-hour later and went to our neighbor's house where we later found out that they did the same thing to them," says Bushra. "I did not really care about them taking the computers but I am worried about the official documents especially the land ownership deeds. We own a large piece of land where our house is build, on the hill opposite the nearby settlement of Halamish. I worry that they might confiscate the land or even forge a sale without our consent."
"This is not the first time that soldiers came to the house in the middle of the night, but this is the first time they have taken things with them. I don't feel my house is a safe place anymore. When night falls my heart sinks and I find it hard to fall asleep; I find myself distracted by the slightest sound outside. My biggest worry is my children and their safety. My son Anan stays up late because he expects soldiers to come for him any time and he wants to be awake when they do. Life in the village these days is very stressful," says Bushra.
Related links: