Women's Voices: Dalal T. - Night raid
| | |
| --- | --- |
| Name: | Dalal T. |
| Age: | 31 |
| Location: | An Nabi Saleh, West Bank |
| Nature of incident: | Night raid |
| Date of incident: | 23 November 2011 |
On 23 November 2011, Israeli soldiers raid the home of a 31-year-old woman from the village of An Nabi Saleh, in the occupied West Bank, at 1:30 am.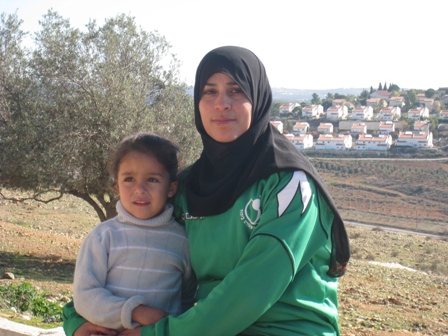 The village of An Nabi Saleh is located 15 kilometres north of Ramallah and has a population of 500 residents. In 1977 the Israeli settlement of Halamish was established about 500 metres away, partly on village lands. In 2009, the settlement expanded still further taking over a spring belonging to one of the villagers. This was the spark for weekly Friday demonstrations by the residents of the village against the settlement. The response from the Israeli army has been to conduct frequent night time raids, which create a sense of fear and insecurity in the village.
Dalal, her husband and their three children aged four to 14 were asleep in their home when all of a sudden Dalal heard loud banging at their door. It was 1:30 am. "My husband went to open the door and I went to my kid's bedroom to make sure they are not alone. Arij, my 10-year-old daughter was trembling in her bed. I tried to calm her down but she was in shock at the sudden loud banging, it was terrible," recalls Dalal. "I panicked. I stood by the bedroom door and didn't allow them in. Arij was terrified, I've never seen her like this before."
Dalal recalled how five months earlier soldiers came to the house and took pictures of her son Walid. "That experience changed Walid and turned him into a timid boy," says Dalal. "This time he covered his head under the blanket the whole time and didn't show his face again until he was sure the soldiers had left. My younger daughter who is four changed too. She follows me from place to place and will not stay in the house on her own even when I go out into the garden. At night when it gets dark it gets worse; she won't even go to the kitchen on her own. My older daughter Arij pretends she is a big girl but I can tell how she tries to hide her fear, mothers know these things. There is no security in the village, my husband and I can no longer stay out of the house after dark. When we visit friends I don't relax until I get back home, I am always worried and afraid that something bad might happen. I look at each passing car with suspicion; I worry about the children especially my eldest son. I think it is only a matter of time until they arrest him like they did with the other boys in the village. They target small children his age because they want to send a message to the community. The other boys they arrested were threatened with a beating and that scared the boys so much they confessed to things they did not do. It is my worst nightmare that this might happen to my son. I talk to my son and try to re-assure him that if he stays out of trouble he will be ok but deep in my heart I know this is not true. All boys are under threat of arrest whether they get involved or not," says Dalal.
Dalal explained how the most difficult part of all this is the fact that there is no end in sight. "One incident is followed by another and it is endless" she explains. "There is a cloud hanging over our heads that gets to me".