Women's Voices: Khadra M. - Settler violence
| | |
| --- | --- |
| Name: | Khadra M. |
| Age: | 43 |
| Location: | Asira Al-Qibliyeh, West Bank |
| Nature of incident: | Settler violence |
| Date of incident: | 19 May 2012 |
On 19 May 2012, Israeli settlers from the settlement Yitzhar attack the village of Asira Al-Qibliyeh, in the occupied West Bank and shoot a Palestinian resident.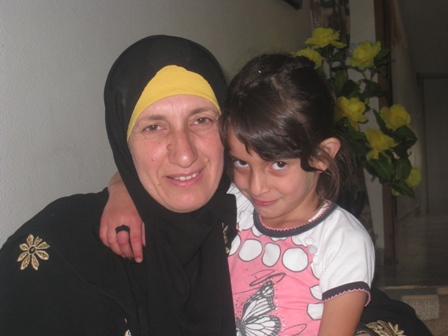 "I was at home doing some house work on Saturday, when I heard some whistling outside at around 4:45 pm," recalls Khadra. "I looked out the window and saw settlers wearing white shirts coming down the hill towards the village. My house is closest to the settlement of Yitzhar where radical settlers often launch attacks against us. The last time they launched such an attack was in December when a large group surrounded our house in the middle of the night and threw rocks at our windows. It was such a frightening experience that I felt sick for days," says Khadra.
Khadra went up to the roof of her house and started filming with a video camera given to her by the Israeli human rights organisation, B'Tselem. "When the settlers were about 40 metres away from our house men from the village started to walk in their direction to stop them approaching any further. I immediately knew there was going to be confrontation and hoped the soldiers would show up soon," recalls Khadra.
"More and more settlers came down the hill and more and more men from the village went out to confront them. Both the settlers and the men threw stones at each other. Some were carrying sticks. It took the soldiers a long time to show up but when they finally did, they didn't do much," says Khadra. "I saw a settler with a pistol aiming it at the men in the village as if he was about to shoot. I was so scared," recalls Khadra. "I heard gun shots. I also saw another two settlers aiming their big guns at the men throwing stones. There were more gunshots. Seconds later I realized a young man had been shot in the head," says Khadra.
"This dreadful situation went on for nearly two hours and during this whole time the soldiers did almost nothing," recalls Khadra. "Then they shot tear gas and everybody started to clear the area. The situation was very tense until about 7:00 pm. I could not sleep that night," says Khadra. "No matter how much I tell myself I should not be afraid I cannot help it. Deep in my heart I was sure the situation would change the minute the soldiers came, but I should have known better. It is a disturbing feeling to know we are completely on our own; nobody is there to help or protect us," says Khadra.
Related links: